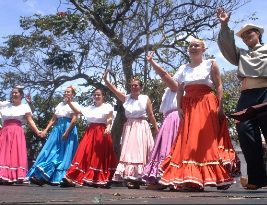 by TCRN Staff
More than 1,000 people from across the country met yesterday in La Sabana in San Jose and enjoyed music, dancing and talks to celebrate the exhibition of Women's Rights. The meeting was part of the activities planned for the International Women's Day to be held on Monday March 8th.
The fair was organized by the National Institute of Women (INAMU) to reaffirm the struggle for equal rights, strengthening education, health and access to cultural and recreational activities.
The chief executive of the institution, Mayra Diaz, drew attention to some remaining challenges for women, as the fight against breast and cervical cancer. Also, the officer pointed out the need to reduce the wage gap compared to men.
According to Diaz, INAMU focused particularly on attracting women from outside the metropolitan area of San Jose.
One was Rosario Sandoval, who arrived with her daughter Yeilin Berroteran from Los Chiles, and had to get up at 3 a. m.
"I'll see if I have time to go to the massage, because first you have to do a lot line for lunch," said Sandoval.
Among the health service posts was one of physical therapy at the Universidad Santa Paula. There, graduate students gave free massages to attendees. By noon had treated about 150 people, according to the therapist Luis Naranjo.
There were many women invited by organized groups. This was the case of María Elena Carballo Chavarria, who serves on the Club 4 S in Orotina. She especially liked the dance shows that featured a group of prisoners, correctional of the Good Shepherd.
"They're very brave for showing up here," stressed Carballo.
It was also common to find families enjoying the activity. For example, Ana Lorena Hernandez arrived with her grandmother, sister and nephew from Dulce Nombre de Coronado.
About Support, Mayra Diaz, INAMU, said: "We would like also for men to come out to these activities because this should also be a struggle for them."