Lance Harrell
Editor in Chief
Two iconic pieces of Costa Rican entertainment were brought together last week for three nights of latin rock.
It was a packed house at the Jazz Café Escazu last Friday when the band Mal Pais took the stage. From their first song to their last, their unique musical style energized the crowd and brought many people to their feet despite the lack of an open dance floor.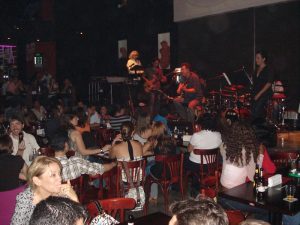 An immediate sensation from their appearance in 1999, this 7 member band has since released three albums: Uno; Stories of Nobody, Live and their latest, One Day Far.
The Jazz Café continues to be one of the best locations in Costa Rica for not only bringing in fantastic groups, but also for providing an excellent venue for viewing them. As anyone who has visited the Jazz Café in Escazu will tell you, there is not a bad seat in the house, even the upper level has tiered seating to ensure a clear view of the large stage.
That combined with excellent food ranging from traditional bocas to Cordon Blue and Filet Mignon, a fully stocked bar with generous wine selections and a competent, courteous staff makes the Jazz Café a "must see" place.
For more information regarding upcoming events at Jazz Café, please visit their Website.