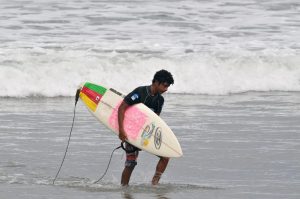 By Graham Swindell
Regional News Correspondent
Voice of Nosara
Costa Rica's National Surf Circuit, sponsored by Iced Britt Coffee, was held in head-high plus wave conditions at the main break of Playa Guiones on Saturday May 22nd and Sunday May 23rd. The contest brought some of Costa Rica's finest talent to Nosara, where they competed in one of the last events of the season. The National Surf Circuit, or CNS, has been running for eight years bringing some of Costa Rica's most talented surfers to the water to compete for a chance at winning the National Title. Last year's National Champion Carlos Muñoz fell short of victory in Guiones Placing 4th, while Jason Torres won the Open event.
The National Circuit will finish up in Playa Jaco on the 25th of June 2010.
The surf conditions were brutal at times with giant waves, onshore winds by mid-morning, and an extremely high tide caused by the surge. These
conditions made this contest one of the most physically challenging ones in it's history here, for both the surfers and the staff which were forced to relocate the judging podium at one point.
Every year the entree number grows as the community of surfers grows.
CNS ran double heats due to the number of competitors this year. On Sunday, the day the Finals were held, the sun decided to come back out but the Surf conditions stayed similar to the day before. While many locals from Nosara took to the water only a hand full were fortunate enough to take home medals. More photos from this event can be viewed at www.nosarashack.com. Contest results are listed below:
FINAL RESULTS
Open

Jason Torres 15,74
Gilberth Brown 12,60
Anthony Segura 10,24
Carlos Muñoz 7,30

Women's Open

Nataly Bernold 10,24
Lisbeth Vindas 9,07
Jordan Hundley 4,10
Kristel Stanley 3,93

Junior

Anthony Fillingim 12,37
Carlos Muñoz 10,33
Jordan Hernández 8,64
José Calderón 6,06

Women's Junior

Elisa Bonomelli 5,23
Leilani McGonagle 4,94
Kristel Stanley 1,17

Boys

Noemar McGonagle 11,06
Eliha Guy 8,67
Alberto Muñoz 8,67
Darío Menéndez 7,44

Grommet

Kevin Montiel 12,34
Noemar McGonagle 8,00
León Glatzer Williams 4,86
Juan Carlos Hernández 3,83

Grommet Femenino


Paula Duarte 14,83
Leilani McGonagle 6,44
Selena Moberly 5,70
Tania González 4,93

Mini Grommet

Sean Forrester 9,07
Storm Van Timmeren 6,67
Leonardo Calvo 5,50
Eduardo Venegas 4,92

Women's Mini Grommet


Leilani McGonagle 9,00
Paula Duarte 6,50
Arisha Grioti 5,87
Emily Gussoni 5,33

Longboard

Diego Naranjo 13,00
Cristian Santamaría 12,67
Anthony Flores 5,66
Adolfo Gómez 5,33

Novices

Alejandro Vaca 8,33
Maykol Salazar 8,10
Esteban Venegas 7,10
Jonah Sam Young 3,80

Masters

Craig Schieber 13,04

Carlos Velarde 10,10

Adolfo Gómez 8,13

Tyler Marsh 4,6

Grand Masters

Craig Schieber 10,27

Carlos Velarde 10,14

Steve Reyes 6,37