Today, the livestock sector is carbon-positive due to the implementation of a strategy of low carbon production for the sector, incorporated in 2015, explained Jorge Segura, coordinator of the National Livestock Program.
This means that the livestock production in Costa Rica captures more greenhouse gases (GHG) than it emits, through the planting of trees in the farms destined to graze the animals. Livestock is responsible for 23% of gross GHG emissions in the country.
The strategy, from its implementation, established projections for each of the years of its application until its completion in 2034, and in 2018 these estimates were met, according to Segura. Likewise, a change in the feeding of ruminants, contemplated in the strategy, helps to reduce the emission per head of cattle.
The estimate for the projected 20 years is to reduce annually up to 2% of GHG per head of cattle. There are 1.5 million cattle in the country, according to the latest National Livestock Survey.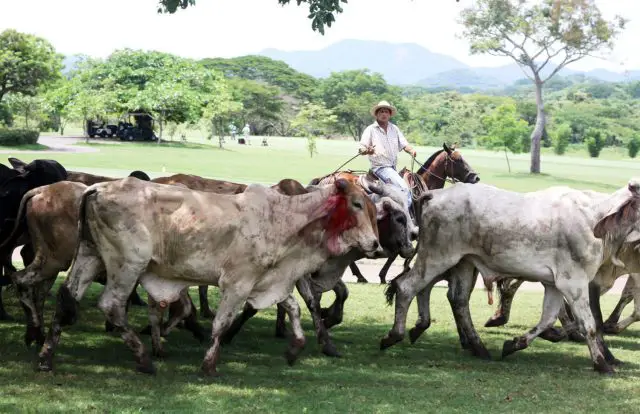 Another benefit is the increase in productivity, as it is one of the pillars of responsible livestock. "We cannot expect farmers to start acquiring responsible practices with the environment if we do not promise them greater profitability", Segura said. The strategy contemplates an increase in sales income from meat and milk at an annual rate of 3% over the baseline.
The previous week, Christiana Figueres, ex-environmental leader of the United Nations (UN), strongly pointed to the livestock industry as one of the biggest responsible for climate change. But Segura explained that the attack should be directed towards the United States, where production practices are more aggressive.
PROJECTIONS
These are the projections established in the "Strategy for Low-Carbon Livestock 2015-2034".
Meat and milk – Annual growth: 3%
Herd – Annual growth: 2%
Extraction of animals – Annual growth: 2%
Pastures with good management – Annual growth: 2%
Total pasture area – Annual growth: 1%
OBJECTIVES
These are the objectives of the "Strategy for Low-Carbon Livestock 2015-2034".
Better articulate primary production and the meat and dairy industries
Fast forward to more intensive livestock
Stimulate profitability
Promote specialized dairy
Encourage youth participation and leave a conservative model
Move livestock from areas of climatic vulnerability
Production of meat with more intensive grazing
Promote quality breeds in small-scale livestock