La Paz Waterfalls is a park on the outskirts of Costa Rica's capital. It offers the nation's best natural gifts, this rainforest has hundreds of species and beautiful waterfalls to remember. 3.5 kilometers of hiking trails that include every last detail for visitors to have a wonderful time.
There we meet three tourists: Denise, Lucy, and Antwine. They're three Americans with different stories that met at a touring trip in San Jose. Denise's comes from New York, Lucy comes from Miami and Antwone's place of birth is New Orleans. All of them are living their mid-twenties and like to travel and see new places every time they can.
After enjoying tours at the Arenal Volcano and the Britt chocolate company, they agreed to meet once again. This time the trip would take place at the La Paz Waterfalls. A cloudy yet warm day awaited when they arrived, the tour guide said that the weather is always unpredictable. The three of them consented in buying raincoats in case it started raining.
Costa Rica's tropical weather is rainforest-like. Still, in San Jose and its surroundings, the temperatures aren't that warm in raining season. They vary between 64 and 75 degrees, this makes cloudy days especially pleasant for visitors and locals.
Enter La Paz Waterfalls Park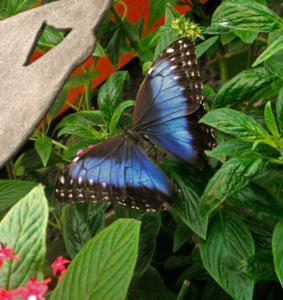 After a brief introduction by the tour guide, the group walked to the butterfly exhibition. Thousands of butterflies decorated the place like the perfect spring day. Lucy and Antwone marveled at the fantastic colors and took many photos while Denise didn't have the best time. As a New Yorker, she wasn't accustomed being so close to insects: – 'Get them off me!', she said while little kids taking the tour enjoyed chasing them around.
Lucy and Antwone calmed Denise and followed the tour group that headed to the next section. It was a reptile exhibition where serpents and frogs dazed the tourists with their magnificent length and bright colors. Park rangers warned everyone not to touch the poisonous frogs, nature knows how to say stop with red as clearly as a street light in the city.
Later on, they encountered a typical Costa Rican country house preserved for touring. Its bahareque walls and composite palm roof gave the feel of how farmers lived at the time. Lucy felt a special connection with the place since she comes from a farmers family and reminded her of her lovely youth. She recalled with a cracked voice and watery eyes that handcrafted ovens throw her back to the friends she shared so many good moments.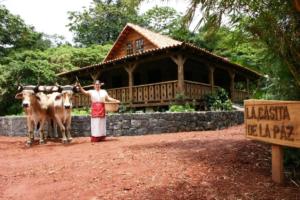 Outside of the country house, the group saw cows, oxen and other typical farm animals from Costa Rica. Denise felt surprised when she heard a kid asking the tour guide 'what's that?' wondering about the spotty animal with an udder. Meanwhile, Antwone took pictures to all of them since he loves photography and capturing everlasting moments. He commented that while years pass and people always change, memories last forever.
At La Paz Waterfalls, it's recommended that visitors take two hours to visit the whole park. The really passionate about hiking can travel through trails and have a more detailed on local species. The tour includes a buffet meal where people can delight themselves with typical Costa Rican plates.
And then, rain fell in La Paz
As Lucy, Denise and Antwone were eating, the day went darker and started smelling like rain. The sky violently opened up and mother nature blessed the park once again. Lucy was relieved that they bought their trusty raincoats for the occasion. After the three put the coats on and everyone was done eating, they continued the tour.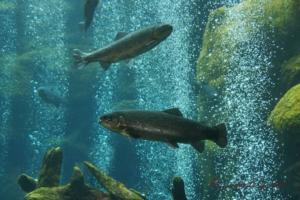 'We're not seeing the fish exhibition, it's raining too much', said the young guide. The water tank exhibition looked unprotected from the elements. Yet Antwone looked at the many fishes in the water tank and suggested going there. The three went under the rain, their coats made them forget about the rainfall and for a moment, they felt like kids. Younglings wowed by wildlife in a place that made them one with mother earth.
Raincoats are useful at La Paz Waterfall parks due to the unpredictable weather. Also, if visitors walk too close to the falls, there are many signs advise people carrying a coat along so that clothing doesn't get soaked. Walking around on wet clothes can cause bronchitis or pneumonia.
When the three Americans rejoined the group, they visited the feline exhibition. People don't need coats here since the roof covers them from rain or the sun. There they saw Jaguars protecting themselves from rainfall. This time, Denise took the camera from Antwone's hands and photographed all of them. She mentioned that she has a special connection with felines and even has a pet cat that she loves.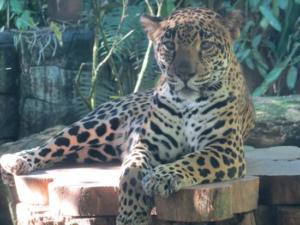 Lucy noticed that while the majority of jaguars looked comfortable and relaxed, one was walking around too much. She asked the park ranger if something was wrong with her. He responded: 'You never know what a jaguar thinks'. This made Lucy concerned.  A  spiritual person like her worries a lot about peace in all animals.
According to experts, jaguars are the most untamable of big cats, unlike lions or tigers, their behavior is unpredictable. And in this case, as unpredictable as Costa Rica's weather, it can go between sun and rain in just a couple of seconds.
After the primate exhibition where the group saw black-handed and hooded monkeys, the bus awaited them amongst the sunset lights. The young Americans had a wonderful experience, the three agreed that the park had at least one thing that they loved. It was five o'clock, time for the park to close so they returned to the hotel to rest. Tomorrow can always bring more surprises and places to visit in Costa Rica.
This story is based on real events, characters names used are fictional.