By Andrew Kolasinski.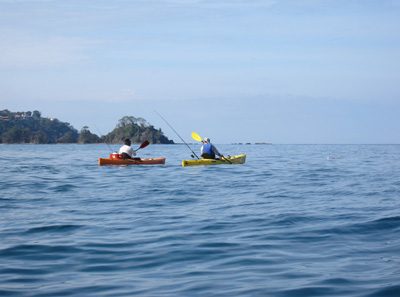 My kayak bobbed up and down in the Pacific swells as I lowered my fishing gear to the bottom of the palm-fringed bay. I was hoping to hook into a big Mahi Mahi or a Red Snapper when a thought occurred to me.
"Do the crocodiles ever swim out this far from the estuary?" I asked my guide, Leonardo.
I was ocean kayak fishing 20 miles north of the Costa Rican surfing Mecca of Jaco – just a mile or so from the mouth of the Rio Tarcoles, which reputedly has the highest population density of American Crocodiles anywhere.
But that's Costa Rica. The national saying is, "Pura Vida", meaning Pure Life. This country has nature in superabundance. Near our hotel, Green Iguanas up to three feet long were lounging on the beach. In the trees, we could see a rainbow of Toucans and Macaws. The early morning cries of the howler monkeys announced the start of another day in the coastal jungle.
"If we paddled a few miles north and it was the rainy season we might see a small one. When the rains come in September, the rivers swell up and young crocodiles are sometimes washed out to sea. I've seen little ones swimming along the coast looking for the river mouth. It is very rare and they are too small to pose any danger," assured Leonardo, as he cast his bait jig out a few feet from his kayak and let it sink. His immediate task was to catch fresh bait for me to use.
The big game fishing in Costa Rica is renowned worldwide among serious anglers. Giant Yellowfin Tuna, Marlin, and Sailfish are the principal trophy target fish. Catch-and-release is increasingly the practice, but anglers will strive to break weight records and experience the thrill of reeling in massive, hard-fighting specimens. This type of fishing is done by trolling big lures or bait on heavy-duty tackle. The fishing grounds are 20 or more miles offshore, and the costs involved are not for the budget minded.
But Costa Rica's rocky headlands, sandy beachfront and estuaries are increasingly popular with shore anglers – both spin casters and fly fishers. Kayak fishing is gaining in popularity. From a kayak, you can chase after larger species such as Snook, Red Snapper, Rooster Fish, and Bonito. Kayak Jaco is pioneering kayak fishing in this area and they also offer kayak rentals, instruction, guided paddles, kayak surfing, and kayak/snorkel trips.
Leonardo picked my nephew Wesley and me up at your hotel along the beach. Leonardo said we would do a combination of kayak trolling, spin casting and jigging to specific fish holding points. We'd be baited with live baitfish, and casting Rapalas and lead jig heads. Our target species would be Amber Jack, Sea Bass, and Red Snapper. These were all exotic species that I was previously unfamiliar with.
"At this time of year we have a chance to catch a Mahi Mahi, also called a Dorado. Other seasons bring us very good kayak fishing for Rooster Fish and Snook, said Leonardo as we drove along the rustic coastal highway, towards Kayak Jaco's base at Playa Agujas.
We suited up with life vests, dry bags, and fishing gear and launched our sturdy plastic, sit-on-top style kayaks, which were specially rigged with rod holders, storage holds for fish and bait and cargo straps, more information about fishing at http://betafishing.com/
Leonardo, assisted by his "paddle-loco" buddy Wilbur, led our flotilla across the bay towards La Punta. Along the way he had caught enough small baitfish for Wesley and me, so he pulled his boat alongside each of use and re-rigged our rods.
We began sighting our prey, the Amber Jack, porpoising and leaping in schools of several hundred. For the next half hour, we chased and paddled into the midst of the jumping two to four-pound tuna-like fish, but did not hook up. It was time for a short break, and Wilbur and Leonardo led us to a sheltered sandy beach in the midst of La Punta's rocky ledges. After beaching the kayaks, the two guides set out a spread of machete-cut Costa Rican fruit: fresh pineapples, mangos, and melons.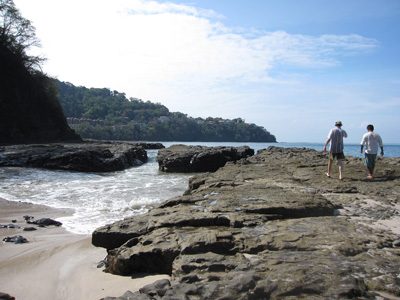 While resting at La Punta we all got excited when a Sea Bass, about 2 feet in length, swam past our location, just a couple of feet from the rocky shore and a foot under the water. Encouraged by this we hastened our launch and set back to fishing. The Amber Jack was everywhere and I spotted a coffee table sized Hawksbill sea turtle within a paddle's length of my boat!
Wesley and Wilbur had paddled way out in pursuit of the leaping Amber Jack. I noticed that Wilbur had paddled in-shore and was cast in among the rock formations along the shore, when my rod-tip began to twitch and the sound of the reels dragging spurred me to action. I grabbed the rod out of its holder and after a short but vigorous tussle, was face to face with a set of nasty-looking teeth. I signaled to my guide and our kayaks were soon side by side. Leonardo expertly unhooked a slender fish with a beak like a dinosaur.
"This is a Needle Fish. They grow to about 2 meters. Too bad they're not good for anything," he said as he released it live, back into the Pacific.
Our time was running short and we contented ourselves with a great paddling experience, lots of marine life sighted, and angling encounters with some unexpected denizens of the Costa Rican Pacific. As we beached the kayaks and prepared to set off back to the hotel, we discussed plans to do it again soon.
INSHORE FISH SPECIES
Snook is a long silver species with rasped teeth and a protruding lower jaw. Their weight runs up to about 30 pounds, with a 5 pound fish being average. They are often caught near the bottom on jigs or shrimp pattern flies.

The Rooster Fish, named after the seven protruding spines on its dorsal fin, have a blue striped body. They can reach 100 pounds, but an average weighs in in the teens. They feed on small baitfish, often just past the surf line. They're caught on streamer flies and imitation lures.

Red Snapper are a bottom fish that can reach 30 pounds. They are usually in deep water and will take rubber tail jigs or bait.

Bonito are akin to Tuna and grow to 25 pounds. They usually move in schools of hundreds and feed in the mid-depths on fish and squid.

Cabrilla, sometimes call the Spotted Sand Bass, or Flag Grouper. These fish don't run to huge sizes, but are very lively fighters. They will take attractor flies and jigs.

Gallo have vertically flattened bodies, though their eyes remain on either side of their heads. They range up to about 40 pounds and are the predators of the mid-depths.