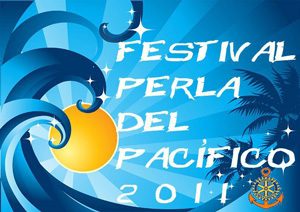 I hope everyone is rested and recovered from Fiestas Palmares because the next big festival in Costa Rica begins this week in Puntarenas! Formerly known as Carnaval Puntarenas, the Pacific Pearl Festival is a ten day festival full of fun, food, fireworks, drinks, dancing, concerts, a float parade, a horse parade, sporting events, and more. The streets of the Pacific coast town of Puntarenas will be full of merry festival-goers all day and all night – don't miss out on this Costa Rican must-see event!
Notes of interest:
The Main Stage will be located 100 meters west of Parque Abelardo Lobo in the Barrio El Carmen.
During the festival, Carnival Security will be reinforced with troops from the capital city and elsewhere in the country, as well as the Armed Forces Mobile Unit who will be located in front of the Hotel Tioga. The Costa Rican Red Cross will also be adequately reinforced.
Schedule of Events
FRIDAY 02/11

12:00 pm
Bomblets announce the beginning of the 2011 Puntarenas Carnival
12:30 pm
Public dances along the Exhibition Centre and the Chinamos
03:00 pm
Masquerades (Barrio El Carmen)
07:00 pm
Coronation night in the Muelle Turístico. Dance Event "Straight to the Heart" in which the Queen of Carnival will be crowned
08:00 pm
Fireworks in Muelle Grande

SATURDAY 02/12

06:00 am
Fishing Tournament (ICT Tourist Pier)
11:30 am
Masquerades (Barrio El Carmen)
12:00 pm
Concert CDR (La Solución, SKATS, Fuerza Dread, Banton)
04:00 pm
Horse parade! The horse parade starts at the INA in Cocal and ends at the Municipal Beach (Balneario Municipal).
10:00 pm
Fireworks in Muelle Grande

SUNDAY 02/13

12:00 am
Masquerades ( Barrio El Carmen)
04:00 pm
Grand Festival of Bands – 6 of the best national bands will parade through the tourists walk (paseo de los turistas). Winners of the Festival of Light, each band consists of at least 150 members.
08:00 pm
Music and general activities throughout the fairgrounds and at different Chinamos.

MONDAY 02/14

08:00 am
Music and general activities throughout the fair grounds in different Chinamos. Place: Paseo de los Turistas.

TUESDAY 02/15

08:00 am
Music and general activities throughout the Fairgrounds and at different Chinamos. Place: Paseo de los Turistas.

WEDNESDAY 02/16

08:00 am
Music and general activities throughout the Fairgrounds and at different Chinamos.
11:00 am
Masquerades in the Barrio El Carmen.
07:00 pm
Endurance Spinning Festival. Stage in front of the Hotel Tioga. Sixty pairs on 60 spinning bikes resisting for 3 hours with three experienced trainers conducting the activity

THURSDAY 02/17

08:00 am
Music and general activities throughout the Fairgrounds and at different Chinamos.
03:00 pm
Masquerades in the Barrio El Carmen.
08:00 pm
National Concert with the groups: Percances, Freddy Alves.

FRIDAY 02/18

08:00 am
Music and general activities throughout the Fairgrounds and at different Chinamos.
03:00 pm
Masquerades in the Barrio El Carmen.
07:00 pm
Professional Wrestling Show. Paseo de los Turistas, two hours of wrestling with masks (lucha libre con enmascarados)
08:00 pm
Dance "Noche Inolvidable" Open Air Concert, Lubin Barahona and the Caballeros del Ritmo, Gary and the Hyksos, Banda Chiqui Chiqui.

SATURDAY 02/19

08:00 am
Music and general activities throughout the Fairgrounds and at different Chinamos.
09:00 am
National Beach Soccer Championship. To be held in the beach soccer fields across from the restaurant La Yunta
02:00 pm
International Concert: International Salsa Festival (Cervando y Florentino, Oscar de Leon and his Orchestra, and Son Mayor.)
04:00 pm
Endurance Festival. Over 150 people compete to win the first 3 places in categories, all ages. The best instructors in the country will guide the competition.
07:00 pm
Music and general activities throughout the Fairgrounds and at different Chinamos.
09:00 pm
Fireworks – Muelle Grande de Cruceros.

SUNDAY 02/20

08:00 am
Music and general activities throughout the Fairgrounds and at different Chinamos
10:00 am
Extreme Bike Show. Paseo de los Turistas, opposite Hotel Hammock
02:00 pm
Carnival Parade. Professional Dance Groups, Floats, Masks, Costumes, and more! The Carnival Parade route will be starting at the Municipal Beach (Balneario Municipal), moving around the Paseo de Los Turistas, and ending at the Puntarenas Marine Park (Parque Marino de Puntarenas).
08:00 pm
Artificial fire. Bomblets herald the end of the Pearl of the Pacific Festival 2011 – Muelle Grande de Cruceros
———————————————————————-
For inquiries about this festival, contact:
Central Committee:
Phone: 2661-5705
Fax: 2661-2980
E-mail: [email protected]
Website: www.puntarenas.com/CARNAVALES/