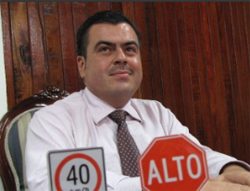 by ALONSO MATA B.; translation by TCRN Staff
Interview with Germain Marin Director of the Traffic Police.
TIP: Get our latest content by joining our newsletter. Don't miss out on news that matter in Costa Rica. Click here.
What is the response of the new traffic law until today?

We have seen a different behavior on the part of drivers, there is a major concern, a change of attitude, in fact there is a decrease in road deaths compared with last year, we had six for this same time last year when we had ten. Also we see drivers with seat belts and using hands-free (to talk on cell phones), there is even greater respect for the vehicle restrictions.
It is the amount of fines to be expected?

Sure!, Have compiled more than 4,000 ballots. Further evidence that the fines are helping are 11 drivers who have lost all points in the system, and every day we are holding vehicles.
What kind of penalties are you doing?

All kinds, but we focus on priorities: alcohol, speeding and vehicle restrictions, that does not mean the rest is not sanctioned in these operations when other violations are found.
Do you have a ready-made reports of fines pedestrians?

Yes, there have been incidents in Perez Zeledon and the ring road. For example, in Perez Zeledon there was a raid last Wednesday to punish pirates and public transport for observing a pedestrian crossing the street in an improper zone.
Do cyclists get tickets as well?

I also have reports of 26 ballots made to cyclists.
What are the main faults found?

Driving without carrying a license, not wearing seat belts, react angrily, argue and protest. La Nacion published on Tuesday that to date there had been 39 fines to public transport.
Why so few?

These are fines made at that time, we do 200 operations each month, we barely made 100, the numbers will vary, will be many more ballots. The Public Transport Council also carries out activities to control the service, the control has several MLAs.
Are they trained traffic officers to implement the new legislation?

Yes they are trained, did everything an induction process with the School of Traffic Police, there may be doubts, but this is a police legal support unit designed to evacuate in case. But the law has undergone many changes.
That creates confusion in official and drivers?

These changes are not in place, officials should implement what is published and it must adhere. The officer makes the ballot and if the driver does not agree is reported to have eight working days to appeal.
How do you ensure transparency of the officers?

There are various checks, without diminishing the immediate supervisor is obliged to verify that the officer will do his duty, if at any time a driver feels that their rights are affected they may denounce it, call 911, the call is recorded and becomes a report. If it was an act of corruption it is referred to the OIJ, moreover, created an internal affairs unit to investigate corruption cases.
Spanish Version