If for 2 consecutive weeks you take your blood pressure and find it above 140/90, it is good to see a doctor, as long as you may have hypertension. It is a condition that if not cared properly and controlled, will trigger in major diseases which could lead to death.

A study carried out by the World Health Organization (WHO) and the Imperial College London published in the medical journal "The Lancet" notes that this disease continues to be an enemy of Costa Ricans, especially for the male population.

The report explored the statistics of this disease between 1975 and 2016. Although the indicator of this condition has been declining over time, in both sexes, it is still worrying that 1 out of 5 men suffers from the disease.

Between 1975 and 2016, hypertension in them increased from 25.9% to 21%, while in women it decreased from 23.9% to 16.3% (a larger decrease).

These data are part of a larger research called NCD Risk, which has also explored other topics such as obesity and overweight.

The nation with the highest level of hypertension for men is Croatia, with 38.4%, and for women, it is Niger, with 35.8%.

How does hypertension begin?
When an artery is normal, the flexibility that allows blood to flow smoothly. As a person accumulates years of bad habits, plaques that adhere to the internal walls are also formed in the arteries. These plaques are composed of cholesterol, fat, calcium, and a substance called fibrin.
A Cradle of Greater Evils
One of the biggest problems with hypertension is that if not controlled this affects the major organs of the body.
The heart is among those organs which suffer the most with an uncontrolled blood pressure. The obstruction of the walls of the arteries makes it more difficult for the blood to reach the heart so that it cannot pump it normally.
The brain is also severely damaged if blood pressure does not have adequate control. The arteries and capillaries in this area are thinner and may present major problems, such as a stroke.
The lung also faces serious sequelae. The alveoli (smaller capillaries) supply substances constantly and, if there is more pressure, this makes it difficult to breathe.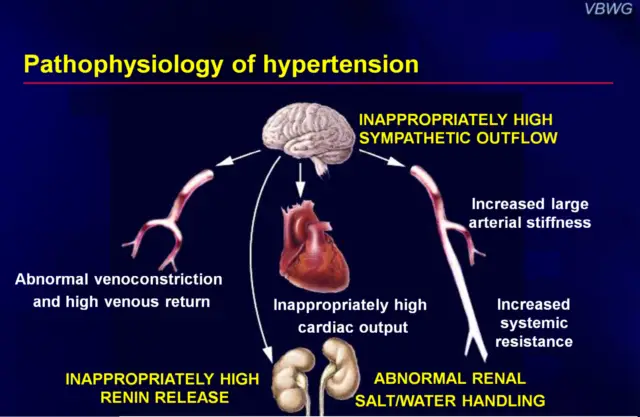 What to do?
The WHO gives four vital tips for avoiding high blood pressure: perform at least 150 minutes of physical activity a week, do not abuse alcoholic drinks, do not smoke, and have a diet high in fruits or vegetables and low in fat.
If a person already has hypertension, it is important that he strictly maintains his medical treatment to avoid major complications and, in case of any doubt, go to a heart specialist.