UPDATE: Second day of National Emergency. Rains are expected to continue for 2 more days. A large flash flood completely destroyed the neighborhood Lourdes, located in Aserrí. Throughout the effected areas there are 23 dead and 10 are known to be still missing, although the number of missing is expected to rise. Over 1.390 people in shelters in 114 communities.
Thursday afternoon rain eased. The Instituto Meteorológico Nacional (IMN), issued a warning that the rainy conditions are expected to continue in the Central Valley and the Central and South Pacific coast today and possible into tomorrow.
Novemeber 4th, 2010:
A National Emergency was declared November 4th, 2010 – in San Antonio de Escazú, San José, where there was a huge landslide that swept away several homes early today.
Six Bridges out. Eight highways closed. Routes in Cartago, San Isidro, Central Pacific and eastward to Limon, all effected.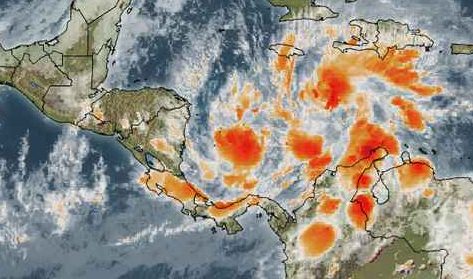 At least 20 people were killed and 30 others were missing Thursday when a mudslide triggered by heavy rain crashed into homes in the Costa Rican capital, rescue officials said.
Responders, supported by the security forces, are still searching the disaster area to find more victims.
A wave of mud and rocks rushed down the Pico Blanco hill at dawn and slammed into several homes in San Antonio de Escazu, a southeastern San Jose suburb, said the National Commission on Emergencies (CNE).
Antonio Gaitan, a Red Cross official at the site, said that specialised units rushed to the site to review the damage and search for survivors.
School was closed in several Costa Rican cities, including the San Jose metropolitan area, due to heavy rain over the past 48 hours.
Houses and bridges are reported destroyed in the cantons of Parrita, Garabito and Aguirre, among others.
TCRN STAFF