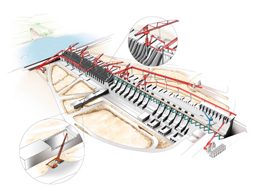 The Government has a project to ensure a drinking water supply to Guanacaste, on paper, but lacks the money to finance it.
The work, which would build a reservoir on the Rio Piedras, 8.5 kilometers from the city of Bagaces, will cost $ 100 million (¢ 52,500 million at the exchange rate last Friday.)
The reservoir would cover 830 hectares with a dam 36 meters high.
Javier Flores, Minister of Agriculture, said the government could get the resources to build the work using a loan from any international financial institution.
Flores said that to speed up this process they will form a committee that will expedite the procurement of funds and as well as the implementation of the project.
"We hope to raise money during the first year and then take two years to build," said Flores.
The minister said for that reservoir water will be captured from the Corobicí River, which passes, among other places, from the area of Cañas.
German Mora, assistant manager of Research and Development of AyA, said Guanacaste now consumes 1.1 m3 / s, so, with this new production the water supply would be guaranteed for 30 years.
Translation and Editing by TCRN Staff