For those who love to break the routine and do unusual things, we bring you a great option and full of adrenaline: go-kart tracks, our new favorite activity. Here we bring you a guide with everything you need to know

Many like the feeling of speed because of the adrenaline it provokes and the running tracks go-karts are the safest and the "chivas" option that can be found.

In addition, as we like to find new things to do, this became one of the favorites. Every second is enjoyed to the maximum and healthy competition is encouraged as much as possible.

In order to practice, we found 3 different places to do this activity:

Palmares Karting

The neighbors of the western Central Valley already have a place to live the adrenaline of Indoor Karting and have family entertainment. Palmares Karting, a complex with Indoor Karting track, food court, cafeteria and inflatables for children.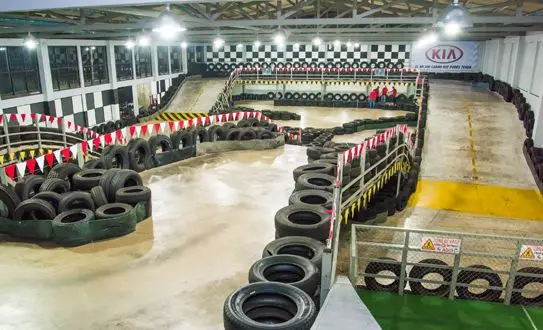 The track presents an interesting design, with two ascents and strong descents, slow and fast curves. The whole circuit has security, traffic lights, and officers. The owners advised the karting pilot Jean Valerio to finish its design.
As for the karts, these were acquired in England and have the system to reduce speed and even turn them off remotely, also on the screens can be observed online times. The heats last 6 minutes.
Where?
Palmares, 75 meters east of the main Transit Offices, at the main entrance of Palmares.
Price:
The promotions are not missing here, every day there is a different option.
Regular price per heat:  ₵ 5,000
Timetables:
Monday thru Friday, from 4:00 p.m. to 10:00 p.m. Tuesday closed.
Saturday and Sunday, from 1:00 p.m. to 10:30 p.m.
Formula Kart
It is the cradle of motorsports in Costa Rica. In a go-kart track is where the experienced and famous runners have taken their first steps in the world of engines, being the hotbed of a sport.
Several years ago we opened our doors to welcome all fans in this exciting sport, we have the equipment and trained personnel to enjoy the maximum of adrenaline with the latest technology kart.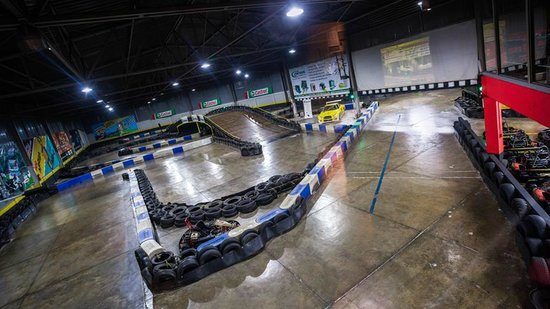 For the entire eastern area of the Great Metropolitan Area, this track has curves, a bridge, and a tunnel so that the route is as enjoyable as possible. For those who just want to see, they have an area destined to a restaurant with a view to the race track.
You can also make birthday parties or other activities.
Where?
Curridabat, from the Indoor Club, 200 meters east in the Milla de Oro Plaza Shopping Center.
You have enough parking available.
Price:
1 heat:  ₵ 4,900
Currently have a promotion from Monday thru Friday, 3 heats for ₵ 4,350.
Timetable:
Monday – Friday: 2:30 p.m. – 10:30 p.m.
Saturday, Sunday, and holidays: 11:00 a.m. – 10:30 p.m.
FIK Lindora
The circuit has many novelties, the main one is that it is made of asphalt and that costs a lot to see in the Indoor Karting complexes until the bridge is made of asphalt, that provides a more real race experience to the visitors ".
The place has 24 karts, helmets and safety devices for the neck, plus there are uniforms for business events, birthdays or special activities that seek a total career experience.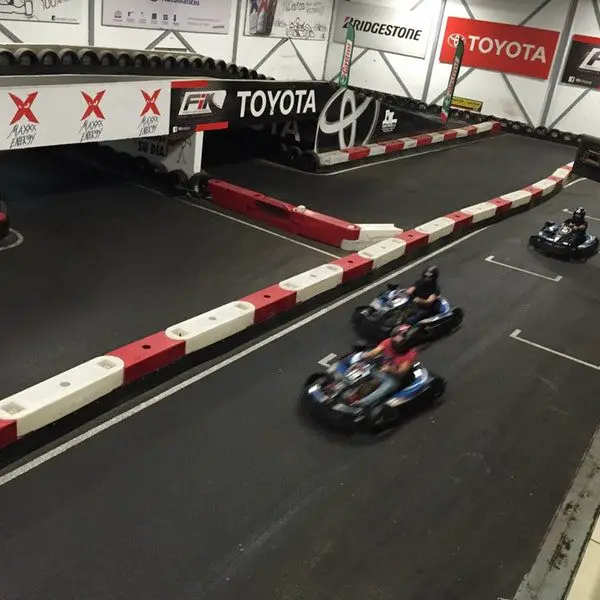 It is one of the most requested and, also, has a restaurant on the 2nd floor overlooking the entire track.
Where?
From the main street of Lindora, behind the Porsche Parque Commercial Lindora.
Price:
1 heat: ₵ 4,900
2 heats: ₵ 4,800 each
Timetables:
Seniors:
Mon – Thu: 4:30 p.m. – 11:00 p.m.
Fri: 1:00 p.m. – 11:00 p.m.
Sat – Sun: 10:30 a.m. – 11:00 p.m.
Junior:
Mon – Thu: 4:00 p.m. – 7:00 p.m.
Fri: 1:00 p.m. – 7:00 p.m.
Sat – Sun: 10:30 a.m. – 11:00 p.m.
Recommendations
Come with comfortable shoes, preferably closed.
Regardless of age, a minimum height of 1.5 meters is required for the use of go-karts.