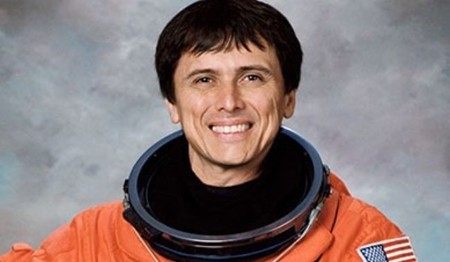 To say anything about Franklin Chang is to fall short. The astronaut with more space missions (seven, between 1986 and 1992). Chang was the first NASA astronaut without US ancestry. Of Cantonese ancestry by father, and Costa Rican by mother, he studied and worked hard in Costa Rica before embarking on his space dream.
Franklin Chang-Diaz was born in San José, Costa Rica, on April 5, 1950. He was fascinated by the space exploration of the sixties and spent his childhood imagining what life in space would be like. At a very early age, Franklin decided that one day he would go to the United States and become an astronaut. Franklin tried very hard to fulfill his dream. When he arrived in the United States, he had only $ 50.00 in his pocket and could not speak English!
TIP: Get our latest content by joining our newsletter. Don't miss out on news that matter in Costa Rica. Click here.
Applied studies
Chang Díaz attended his first elementary school at the Colegio Padre Juan de Barnuevo in Altagracia de Orituco, Guárico state, Venezuela, where he lived part of his childhood. He graduated from Colegio De La Salle in San Jose, Costa Rica, in November 1967, and from Hartford High School in Hartford, Connecticut, in 1969. Subsequently, he entered the University of Connecticut, where he obtained a degree in Mechanical Engineering in 1973 Four years later he obtained a doctorate in Nuclear Engineering, from the Massachusetts Institute of Technology (MIT). His doctoral research was based on fusion technology and plasma-based jet propulsion.
Career
He worked as a research assistant in the Department of Physics and participated in the design and construction of experiments in high-energy atomic collisions. Throughout his career, he has vigorously promoted space science and technology in Latin America, aware of the extraordinary potential that exists in the region. He graduated in 1977 as a doctor of science from the Massachusetts Institute of Technology.
He joined NASA in 1980 and was selected as an astronaut in 1981. On January 12, 1986, he traveled to space, on the STS 61-C mission of the Columbia Shuttle that took off from the Kennedy Space Center. He has completed seven space missions between 1986 and 2002. He was NASA's first Costa Rican astronaut (US nationalized) with non-United States ancestry, and one of the men with the most missions. He is one of the members of the NASA Hall of Fame.
In 1982, he was appointed as a support crew for the first mission of the Space Laboratory, and in November 1983, he served as an orbit capsule communicator (CAPCOM) during that flight. From 1983 to December 1993, he guided the plasma propulsion program in the development of this technology for future human missions to Mars.
He was responsible for approaching and creating closer ties between the astronaut corps and the scientific community – known as the mono-man relationship. In January 1987, the Scientific Astronaut Interlocutor Program began and then helped form the Astronaut Support Program for Science, which he directed until January 1989.
He led a group of Latin American scientists in 1990 at the organization of the First Space Conference of the Americas, sponsored by the United Nations and held in Costa Rica. In 1992 he helped form the project "The Chaga Space," the first Latin American regional experiment in the crystallization of proteins in space with medical applications, carried out in two missions in the space shuttle.
He has immersed himself in his native Costa Rica, where he leads the implementation of the 21st Century Strategy, a master plan designed to transform Costa Rica into a developed country before 2050. At the beginning of 2005, the Astronaut founded a subsidiary of "Ad Astra Rocket Company" in Costa Rica and consists of a laboratory built approximately 10 km from the city of Liberia, Guanacaste, on the Universidad Earth campus, an American advanced rocket technology company (AARTC-CR), with operations in Houston, Texas.
In July 2005 he concluded a successful 25-year career as a NASA astronaut in which he served on 7 space flights, the current world record, and in the development of the VASIMR® rocket engine, a new space propulsion system of his invention, now in the marketing phase.
Main tasks of AARTC-CR
To build a highly flexible device for exploring the optimization of a plasma source for VASIMR space propulsion technology. Measure the residual heat of the source and characterize its distribution. Create engineering designs to remove residual heat effectively.
He was an adjunct professor of Physics at Rice University and the University of Houston, and director of the Advanced Space Propulsion Laboratory at the Johnson Space Center. In Costa Rica, he was a member of the board of notables that analyzed the Central American free trade agreement (FTA) with the United States.
Special honors
Outstanding Student Award from the University of Connecticut (1980).
NASA Space Flight Medal (1986, 1989, 1992, 1994).
Liberty Medal awarded by President Reagan at the Centennial Celebration of the Statue of Liberty in New York City (1986).
Medal of Excellence of the Hispanic Convent of the Congress (1987).
NASA Exceptional Service Medal (1988, 1990, 1993).
The prize for Flight Deeds of the American Astronomical Society (1989).
Award for Outstanding Technical Contribution at the National Prize Conference for Hispanic Engineers (1993).
Venezuelan Air Force Cross granted by President Jaime Lusinchi during the 68th Anniversary of the Venezuelan Air Force in Caracas, Venezuela (1988).
The receiver of three Doctorates Honoris Causa.
Doctor of Science from the University of Connecticut. 
Doctor of Law from Babson College.
He has the honor of being the first Latin American astronaut at NASA.
Family life
Married to Peggy Marguerite Stafford of Alexandria, Louisiana, and father of four daughters. He also enjoys music, flying, and diving. His mother, brothers, and sisters reside in Costa Rica.