If you are looking for an ideal place to improve your physical and mental condition and integrate healthy habits and activities into your lifestyle, free your soul and return as a new person, Costa Rica can be your next travel destination.
Costa Rica has the ideal conditions to detoxify from stress and the daily hustle and bustle. You can experience tourism as part of a way of life that combines fiscal activities and healthy eating and enjoy a wide range of activities to renew your mind, soul, and body. Including activities such as direct contact with nature, deep breathing of pure forest air, barefoot walking on the ground or sand, high-quality healthy cuisine, and the mixing of food and spa with the consumption of local products.
TIP: Get our latest content by joining our newsletter. Don't miss out on news that matter in Costa Rica. Click here.
You can also experience innovative relaxation techniques such as wraps with volcanic mud, coffee, tropical fruits, and chocolate are also used to hydrate the skin. Hydrotherapy with hot spring water is another way to take advantage of our country's water resource to renew and letting the positive energy flow throughout your body.
These characteristics of well-being, typical of Costa Rica, have led to one of the bluest longevity areas on the planet. In a study conducted by the University of Costa Rica, it was determined that the mortality rate among 90-year-old Costa Ricans is 10% lower in the Nicoya Peninsula. The calcium-rich water of this area, healthy eating, family living together and a "Pure Life" lifestyle make up the secrets for longevity.
Imagine that delicious cup of coffee, that refreshing freshly made piña colada, the aromatic herbs that flavor your salad or even the fragrance of the wildflowers that you breathe becoming part of your skin. Mixing those ingredients with various health, relaxation and beauty treatments in Costa Rica is possible. It is about finding the balance between mind, body, and spirit. When you achieve that harmony surrounded by an exuberant nature and lush blue water beaches, the return to the routine is much more acceptable.
Hot springs in the Arenal volcano
It seems impossible that the renowned silhouette of the Arenal volcano has remained almost intact after as much activity as that presented by it. In spite of its high level of volcanic activity, the site continues to attract the most intrepid traveler who wishes to fulfill the longing of being up-close to an active volcano and going to its national park. The natural waters that emanate from the bowels of the volcano have beneficial properties for health, improve the immune system, regulate glandular functions, increase the production of endorphins and of course relax the body and mind. It is advisable to bathe especially at dusk.
Rejuvenate with massages and natural treatments
For a complete feeling of well-being nothing better than one of the facials or exfoliating treatments with natural products that are offered by well-being lodges throughout the country. It can be done with coffee, cocoa, or with local fruits and plants. Everything needed to rejuvenate the body, mind, and spirit. Best of all, these treatments are usually offered in unique environments, a Pacific beach, in the middle of the jungle or by the whisper of a river. The sounds of the fauna and flora of the place flood all the senses completing a true experience of well-being. The water is heated low ground by the volcano's magma and flows throughout the resort forming dozens of pools and hot water pools available for the visitor's treatments.
Places to practice yoga and meditation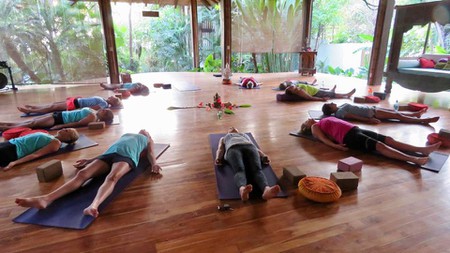 Costa Rica emanates special energy for those who practice yoga and meditation. Here in addition to adventure activities, some places offer yoga, pilates, and meditation. For example, at the foot of the Poas volcano, on a serene tropical beach, in the middle of the jungle, under a waterfall. All these options in direct contact with nature as the perfect places to detoxify from daily stress and returning home with renewed energy. This is the "Pura Vida" lifestyle that only can be experienced in Costa Rica.