By Jose Solís, TheCostaRicaNews.com.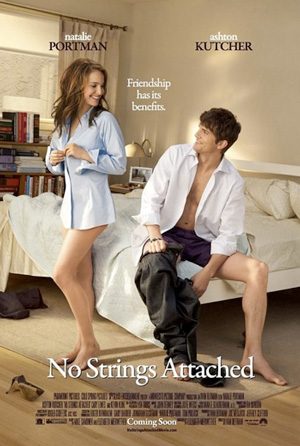 During the last decade, and after the abdication of Julia Roberts as the Queen of Romantic Comedies, the genre has taken a turn for the worst as it tries to deal with female empowerment filtered through the polluting eye of conservative values.
TIP: Get our latest content by joining our newsletter. Don't miss out on news that matter in Costa Rica. Click here.
It's not unusual nowadays to see a movie that calls itself a romantic comedy, which quite literally uses women in power roles as an excuse to call out desperately for the return of "love at first sight" and other genre conventions.
Why? Because female empowerment is still feared by the movie industry and even in a post-Sex and the City society, the roles of women continue being subjugated by what the predominantly male audiences require of them.
Such is the case in No Strings Attached, a movie that on the surface seems almost revolutionary in its embodiment of typical rom-com characters and values, but soon enough reveals itself to be one of the regular movies in disguise.
Natalie Portman stars as Emma Kurtzman, a resident doctor who has chosen to stop believing in love and prefers to have strictly sexual relationships with men. When her childhood friend Adam (Ashton Kutcher) is dumped by his girlfriend, he convinces Emma that now is the perfect time for them to "hook up". They are both fed up with love and need intercourse to give them a healthy distraction from the pressures of daily life.
Emma warns him not to fall in love and of course he does. As he tries to convince her to give up on her way of thinking, the entire movie turns its back on Emma and invites us to think of her as someone with mental problems. How can someone not want love? How can someone not want Ashton Kutcher to fall in love with them? The issue here is that the movie isn't precisely asking those questions, it's specifically acting who does this woman think she is.
Kutcher is unquestionably charismatic and as such steals the movie with his baby face and lovable cheesy humor; this however, is a detriment to the more introverted Portman who internalizes everything to the point that she seems to be sedated through most of the movie.
This casting is ideal for the movie to send audiences away thinking that when women want sex they're wrong. If the roles were reversed, Emma would've been the lucky one that transformed Adam from a ladies man into a monogamous creature. Because it's the other way around, she's the shrew, manipulative woman who makes this poor man a victim of her relentless nymphomania.
————————————————————————————————–
Movie theaters in San Jose, Costa Rica: Cinemark del Este, Cinemark Escazú, CCM Cinemas San Pedro and Paseo de las Flores, Cinépolis Terramall, Cinépolis Desamparados, NOVA Cinemas