Talks, workshops, tours, and classes are part of the first edition of this event
Bicycles don't pollute the environment; they are good for exercising and are money-saving because they don't use fuel. For this reason, the Association for Urban Sustainability (CPSU, acronyms in Spanish) has taken the lead to promote bicycles as the best means of transportation in a city where traffic chaos affects our lives day by day.
This non-profit organization has organized some events with the objective to support the use of bicycles in the urban areas of Costa Rica. Besides, the activity seeks to further a healthier and more eco-friendly lifestyle through the utilization of this non-polluting tool.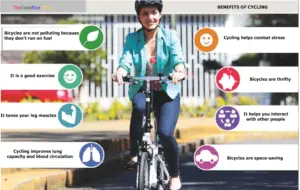 According to some stats, cycles are gaining ground in the streets and roads of the country again. As per one of the main member of CPSU, cities in Costa Rica should be restructured to encourage people to use bikes more often. She added that Costa Rica was still very far from getting "cycle-friendly" areas but she also emphasized that some organizations have been working on it.
The event will be hosted by several companies and associations such as Chepecletas, BiciBus, 86 Food and Somos Bicycles this year.
Agenda Sobre Ruedas and Expo Bici are two of the organizations that will be in charge of talks and workshops regarding the benefits of cycling in metropolises. These are some recreational activities that have been included in the 1st edition of this event:
Cycling trips for the family.
Conference on cities, towns, designs, architecture, and urban cycling.
Workshops on bicycle manufacturing using sustainable material like bamboos.
Talks concerning traffic signals, jaywalking and the correct use of bikes in the street.
Last April, the Ministry of Public Works and Transportation conducted a survey to 2280 bikers of San Jose city and the results turned out to be more interesting than expected:
People born between 1980 and 1993 are the most interested in a solution to improve road safety for cyclists.
69% of the active cyclists prefer a bicycle to go from A to B. They rarely use cars or public transportation.