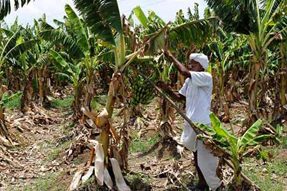 by MARVIN S. BARQUERO
In a preliminary report by the Organization of the United Nations Food and Agriculture Organization (FAO) at the request of the Agricultural Council (CAC), the agricultural sector in six Central American countries lost an estimated $70 million by the impact of El Niño.
The report only shows data until February, so the amount of losses may increase somewhat.
Forecasts state that El Nino will continue until this June, but its intensity is already noticeably on the decline in the region.
El Niño is a recurring climatic phenomenon that is formed by a warming of equatorial Pacific waters. Its impact is felt on the American coasts, including those of Central America.
The countries of Central America have been experiencing the latest incarnation of El Nino since June of 2009 with one of the main outcomes being a very irregular rainy season with rainfall below the historical average.
Translation by TCRN Staff and Editing by Lance Harrell