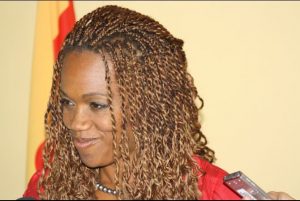 Costa Rica News – Campbell Epsy is touring the country in a mobile home and has a communications agency that will work her image and a website where people can follow the route that will take place in its path. All this will cost 15 million colones.
The is funded with input from 100 people who will donate 150,000 colones each Who are these people? We do not know because it did not provide the list of contributors.
In her meeting with Otton Solis last week, Campbell was asked by the financing of her campaign and the response was just that 150 people would donate 100,000 colones each and that the money would be collected in three phases: the first would be 5 million.
"We have a goal of about 150 people giving 100,000 colones, deposits are made directly to an account of the party, I already asked to be enabled. By the time we could not make any cash payments, but people are already licensed and tell me in the party and they sent all the data to the National Bank, "said Campbell Epsy.
When asked to list those people said not handled accurately … We were directed then with Mauricio Ortiz, one of the collaborators Epsy movement, but what she said was "not that list I have, that what have the people closest to her. That I communicate Pablo Diaz. But there is a list of 100, we are estimating that people donate maximum 150,000 colones, which means Epsy has received small donations, "said Ortiz.
According to what Campbell said, funding is divided it into three stages, the first phase will be to the National Assembly and pay five million colones, the trailer costs them $ 2,000 a month or so, and expect to spend between now and the convention 15 million colones.
Epsy Campbell Barr is a Costa Rican politician and economist and is one of the Founders of the Citizens' Action Party (PAC)
The Costa Rica News (TCRN)
San Jose Costa Rica