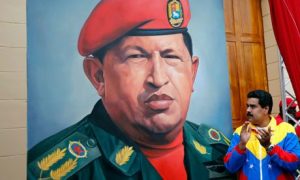 Latin America News – The president of Venezuela, Hugo Chavez, is back in Caracas at the military hospital in the Venezuelan capital, where he will continue treatment for cancer he was undergoing in Cuba, said the Venezuelan government early Monday.
Chavez himself was the first to report his return through the social network Twitter with a message sent at 4:20 am in Caracas (9:50 GMT).
In his account @ chavezcandanga, Chavez said: "We have come back to the country of Venezuela. Thank God!! Thank beloved people! Continue treatment here."
The return of Chavez Venezuelans took to sleeping and by surprise, but already strong rumors circulating on the eve of an imminent return assumptions and preparations in the Military Hospital in Caracas.
In subsequent tweets, the president said he is "clinging to Christ and confident" his doctors and nurses. He also thanked his treatment in Cuba and the outpouring of support of the Venezuelan people.
The information was confirmed also by the social network, Communications Minister Ernesto Villegas, who said the president will be admitted to the Military Hospital in Caracas to continue treatment.
In a transmission by Venezolana de Television, the minister affirmed Villegas information and established a telephone conversation with Vice President Nicolás Maduro, who expressed his happiness for the arrival of Chavez and confirmed that President landed in Maiquetia Airport, which serves Caracas.
Chavez's return comes three days after the government revealed the first images since undergoing surgery in December last year to "remove cancer cells detected in the pelvic area," according to the official statement that accompanied the photographs.
However, the present the photos last week, Minister Villegas said the president had some limited ability to speak and "keeping breathing through a tracheal cannula speech that makes it hard."
The Bolivarian leader, who was re-elected last October, underwent in Havana on December 11 to a fourth operation for the treatment of cancer diagnosed in mid-2011.
Some Venezuelan government spokesmen called for the followers of the Bolivarian revolution to concentrate in places across the country to mark the return of the president, but warned not to overload the Military Hospital area to not disturb the rest of President Chavez.
Category: Latin America News
The Costa Rica News (TCRN)
San Jose Costa Rica