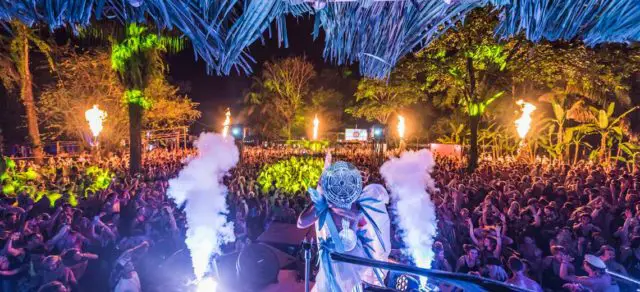 "Envision Fest", is a "Dance" music event that will be held from February 17 to 24 and is considered the largest music festival in Costa Rica. Taking place specifically at "La Uvita de Osa, at Rancho La Merced" where the jungle meets the beach, offering stunning views of the Costa Rican coast, as well as exciting canopy through the rain forest with its wild natural beauty.
This 2020 it will celebrate its tenth anniversary with innovation in the bracelets that will allow you to make payments, whether of consumption or accessories and thus avoiding the need of carrying cash or credit cards.
TIP: Get updates on upcoming Costa Rican Retreats & Events by joining our newsletter. Don't miss out on what's happening around you! Click here.
Envision Fest, is unique and different because it gives you the opportunity to be one with nature, through electronic music, yoga practice and healthy food. Here you will practice self-love, embrace happiness and be carried away by the energy around you.
Here are the activities that makeup Envision Fest:
The event lasts 7 days in which you will meet people from all over the world and have the opportunity to make new friends. It is worth mentioning that there is also the modality of attending only the 4-day experience at the fairgrounds from February 20 to 24.
Exploring in nature.
The location of this festival is wonderful for this activity because it is found in the "South Zone" of the Pacific coast of Costa Rica, which has the greatest biodiversity on Earth, so there are endless opportunities for adventure and nature exploration. Camping in the jungle: Because the festival is within nature here you can live the unique camping experience under a beautiful starry sky.
Experience the local culture.
Costa Ricans are very friendly people, which makes it easy to move around, find what you need and live the culture closely. We recommend you try the delicious typical gastronomy with its tropical and ancestral mixture.
Days of beach and sun.
Because the festival is so well located you can enjoy a beautiful beach located just two minutes from Rancho La Merced. In other words, if you wish you can go for a swim and enjoy a sunny day at the beach and the captivating sunset….and then prepare for the music explosion at night.
Yoga.
During the festival, you can practice this activity under the guidance of specialists in this art. It is worth mentioning that Costa Rica has been considered several times as an ideal place for this practice. Also, there will be the presence of renowned influencers:  "Rachel Brathen", "DJ Drez", "Jai Dev Sinh" and "Amber Ryan".
Art.
The incredible art installations and stage settings throughout the festival venue are different from everything you've seen. There are works of art throughout the jungle environment, and the entire environment is colorful, creative and impressive.
And of course…Music.
With more than 50 artists, among which stand out: "Rufus Du Sol", "Tipper", "CloZee", "Nahko" and "Medicine for the People". The organizers intend to create the best musical experience. Besides, the local "Tico" talent will be present with: "Sonámbulo", "Un Rojo", "Melissa O", "Faceblind", "Oneiro" and "Bunny Wabbit".
Envision Fest is a unique and transformative festival experience that will reunite you with your true being. Apart from the aforementioned activities, participants will enjoy workshops on different topics such as permaculture, environmentalism, sustainability, energy flow and much more. We look forward to your presence!