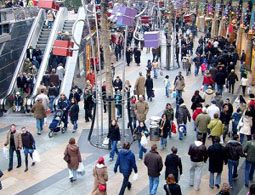 By TCRN Staff:
A recent Deloitte study predicts that consumption in the country will grow sharply in 2010, due to signs of economic recovery worldwide and especially in the U.S., Costa Rica's main trading partner.
Both the Costa Rican Chamber of Commerce and the National University project that next year there will be an upturn in retail sales.
This growth will be leveraged for economic growth prospects, improving foreign investment in most sectors and general economic recovery. In fact, the Confidence Index Commercial Sector (ICSC) indicates an increase from 96 to 122 points.
The expectation is that local commerce sales this quarter will increase by 25% over the previous period, according to forecasts by the Chamber of Commerce. Alan Saborio, managing partner of Deloitte, said that "if confidence levels remain on a positive trend this will likely to improve consumption".
After a contraction of the commercial sector of around 4% in 2009, expectations of the Chamber of Commerce is that the activity will recover showing a positive growth of around 1% in value added during 2010.
The Christmas shopping survey conducted annually since 1985 by Deloitte in the U.S. revealed that 54% of respondents (10,878 consumers) believe that 2010 will be better than this year. In 2009, only 28% responded that way. Moreover, now 51% of respondents expect to spend more over the holidays than last year. Estimates indicate that total sales for this time in the U.S. will reach $810 billion. Despite the increased optimism, the recession led to changes in consumption that will be lasting for a while.
Deloitte's experts believe that retailers need to revitalize their consumer facing brands in the U.S. In this regard, they noted that the number of consumers who are inclined to use green service providers is still stable.
With the high season now in full swing here in Costa Rica this could mean a marked increase in tourism based travel and spending.