Escape the concrete jungle and come live in a real one!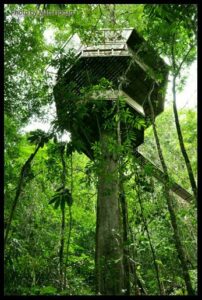 Finca Bellavista was created by Crested Beauty, S.A. to provide an opportunity for a sustainable and harmonious lifestyle in a rainforest environment. Finca Bellavista utilizes hydroelectric and solar power, a recycling center, common garden, and SkyTrails to lessen our impact to the rainforest environment.
TIP: Get updates on upcoming Costa Rican Retreats & Events by joining our newsletter. Don't miss out on what's happening around you! Click here.
Residents of Finca Bellavista will enjoy a quality of life, sense of community, and an immersion in the natural rainforest environment not available anywhere else on Earth. Imagine relaxing in your hammock to the sights and sounds of waterfalls and a troop of squirrel monkeys frolicking in the rainforest canopy around you. Wake up each morning to the songs of some of the 850 recorded species of birds in Costa Rica. From your rainforest home you will feel as though you are, indeed, a part of the natural rainforest community.
Certain "creature comfort" elements are also present at Finca Bellavista. We are located two miles up a gravel road off the paved Pan-American Highway, affording an ease of access seldom found with properties of this kind in Costa Rica. A new international airport is scheduled for completion by 2010 only a half hour away, making Finca Bellavista a reasonable commute and an easy escape from the hectic pace of life elsewhere in the world. Owners and guests also have access to the community's 'base area', which has a high-speed WIFI zone, parking area, a community center with a bath house, kitchen and dining area, and gameroom, a stone-lined, river-fed swimming pool (under construction), the start of the SkyTrail network, and numerous gardens.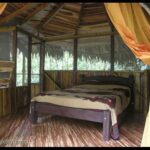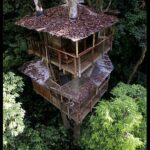 Finca Bellavista encompasses nearly 350 acres of waterfall-filled rainforest, with Rio Bellavista running through the middle of the property, and Rio Piedras Blancas forming the property's northern boundary. Lots vary in size from approximately two to four acres, offering owners a great deal of privacy, considering the dense foliage of the rainforest. Parks and common areas have been preserved throughout the property for the enjoyment of owners and their guests, and include cool and refreshing natural swimming holes beneath a number of waterfalls, aerial views from the Sky Trails, and numerous hiking trails.
Parcels are being sold in three phases; Phase One is sold out and Phase Two parcels are now available. Two to three acre lots start at $49,000 US, with prices slightly higher depending on views and location.
The community plan below represents the Phase One and Phase Two offering of lots at Finca Bellavista. Click on the image to view the large image.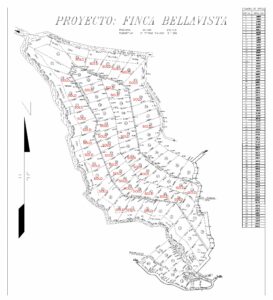 Rentals
Finca Bellavista is a very special place that takes some time to explore. Each rental includes access to community assets such as the rivers, swimming holes and waterfalls, Sky Trails and hiking trails, and base area amenities including the bath house, kitchen and dining area. Access to high-speed WIFI is also available for a per hour fee. There is a book swap and there are several board games available for guests to use. If you stay for 5 nights, your 6th night is on us! Please note that a 4-wheel drive vehicle is recommended for travel to and from Finca Bellavista. Both Cabinas and Treehouses are available for rental and camping can also be arranged.
If you are interested in being featured on The Costa Rica News, contact us via the contact form on our contact page, or email us directly at [email protected]