It all started as a hobby to entertain their daughters. That is how José Fabio Víquez Rodríguez, a resident of Atenas -Costa Rica- and professor of drawing techniques, let his creativity fly with his artistic project Reci-Arte.
The concept is quite simple. However, Víquez achieves a fascinating final result, original and friendly with the environment. The idea is to create beautiful works of recycled material, primarily plastic bottles and even avoiding painting, in order to challenge their artistic creativity and have an ecological result.
TIP: Get our latest content by joining our newsletter. Don't miss out on news that matter in Costa Rica. Click here.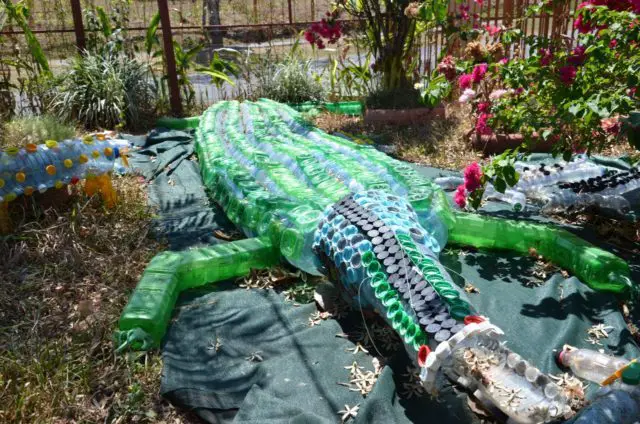 Of the work that is most proud and seeks to fulfill his dream of sharing is an 'Ecological Cart' made with 700 plastic bottles, 1,200 caps, and more than 5,000 perforations to prevent dengue. This is not just a huge plastic work but it is the First Ecological Cart in the world.
The project was an initiative of the professor in the year 2017 since he was looking to be part of the Blue Ecological Flag Program with the Liceo Escuela in Atenas. Together with his students, he developed a completely plastic structure inspired by one of the national symbols of our country, the cart.
Unfortunately, the work deteriorated by water and sun; this prompted José Fabio to restore the special creation. He moved it to his house where he dismantled it and built it again, with new designs but always with the same affection.
The cart is now located in his house, where he has opened a space for Atenas visitors to see this ecological artwork. In addition to the cart, you can enjoy a variety of creative items created with plastic.