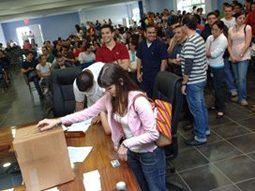 by ALONSO MATA B
After 13 days of striking and intense negotiations with the Costa Rican Social Security Fund (CCSS), the assembly of residents agreed to end the strike and return to work immediately.
A total of 425 residents voted, 288 did so for themselves (accepting the offer), 134 for non-zero and three deferred.
The vote was held n the auditorium of the National Medical Union, located in the College of Physicians, in Sabana Sur, San José.
Although the assembly of only 425 people arrived yesterday, the protest leaders say that since the beginning of this, 700 residents were striking.
The move came in protest against the contract of apprenticeship, which requires those who wish to start a specialty to sign a promissory note for ¢ 32 million as a guarantee that the doctor will work for the institution for a certain time.
Today, that period is one year of work for each year of the duration of the training for the specialty.
The intention of the CCSS is sending specialists to rural or remote areas where there is a shortage of such doctors.
With the guarantee fund eliminated and replaced by normal pay each month minus a mandatory 8% discount to the resident's base salary, which is at ¢617 000.
If the physician leaves the institution prior to the agreement, the CCSS is given all the money, otherwise it returns to the doctor.
This new mechanism will begin to apply from 30 September.