Costa Rica is a country that amazes in every corner with its beautiful landscapes and paradisiacal beaches, and although it has a wide variety of hotels and lodgings that adapt to each taste, camping is an activity that you should not miss out in this country.
Camping allows you to live a unique experience of direct contact with nature and provides benefits for both your physical and spiritual health, which is why we will mention five of the best places to do this activity.
TIP: Get updates on upcoming Costa Rican Retreats & Events by joining our newsletter. Don't miss out on what's happening around you! Click here.
Cahuita
The Cahuita National Park is located in the Caribbean, province of Limón. It is characterized by mangroves, coral reefs, and a great diversity of flora and fauna and is an excellent place to camp. The best months for camping in Cahuita are March, April, September, and October as they are the least rainy in the Caribbean. In addition to camping in Cahuita, it is possible to swim, hike, photograph the flora and fauna dive in the coral reef, practice surfing, and beach sports, among other amusements.
Santa Rosa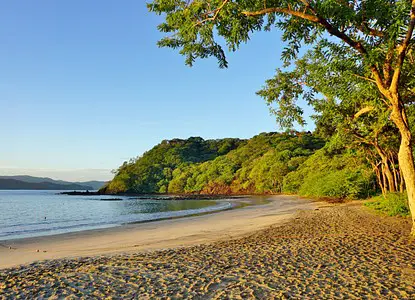 This National Park has three different areas to camp: Santa Rosa, Naranjo beach and Nancite beach. Of these, only the Santa Rosa area has drinking water, which is why if you want to camp in the other places you must carry a sufficient amount of water for your consumption. This place has great historical importance for Costa Rica, so you can visit the Museum of "La Casona de Santa Rosa".
Gandoca Manzanillo
This Wildlife Refuge is located just a few kilometers north of the border with Panama in Talamanca. It is characterized by its crystalline waters and its great biological diversity.
Rincon de la Vieja
In the area of this National Park, you can find small waterfalls, a volcanic lagoon, evergreen vegetation, hot mud pits, and picnic areas.
La Carpinteria
It is located in the "Union de Cartago", with cabins and camping areas, among other facilities. It has a cool climate during most of the year which makes it an ideal place to visit and to camp without problems.
Benefits of going camping for your health:
The first thing you should know is that camping helps you disconnect from the stress of the city and helps you clear your mind, breathing clean air to revive your soul.
You burn calories: When you go camping you exercise, you walk trails, climb mountains, cross rivers, all this is good for your health; According to experts, it is said that in one day you can burn about 500 calories.
It generates good mood: Being outdoors is essential to relax the mind, which makes your mood improve and stress levels are lowered, apart from putting aside the typical routines of city life. Researchers at the University of Michigan discovered that with just a few minutes of walking through nature the symptoms of depression can decrease.
You develop your spirituality: The peace of being alone among trees and animals takes you to an introspective state where it is easier to know yourself. Contemplating the stars or watching the flow of a river also function as a simple meditation that brings great benefits to your inner self. Soon after being in contact with the green of the forests you can begin to feel that you are filled with new energy.
Disconnect completely: If you are in a place where there is no telephone signal, you can completely leave aside technology and the outside world, which will help you connect with your interior and develop your creativity.
Improve your sleep quality: Natural light has a beneficial impact on human health, some recent studies have shown that those who sleep away from artificial light normalize their heart rate and feel less sleepy when they wake up in the morning.
Recommendations when going camping
Take enough drinking water with you
Use a backpack that is designed for camping
Take food that energizes your body 
Use suitable camping clothes and hiking shoes
Take insect repellent, sunscreen, and sunglasses
Map, compass, and GPS can come in handy for not getting lost.
Carry along a First aid kit with gauze, bandages, cotton, needle, scissors, and hydrogen peroxide and if you take any remedies, do not forget to bring them
Swiss knife or suitable knife, in case you need to repair something or to assemble the tent.
Outdoor tent, sleeping bags, and blankets.
We hope you find this information useful when you come to Costa Rica and want to camp in one of these beautiful places that we have recommended. We hope you enjoy the experience!