The 3 diplomats appointed by Nicolás Maduro in Costa Rica will have to retire within the next 2 months, according to the announcement of the Ministry of Foreign Affairs this Friday (yesterday).
The Foreign Ministry assured that it sent a diplomatic note to the Embassy of Venezuela in Costa Rica about the situation of the officials Nabil Moya, Angélica Ramírez and Nelly de la Mata Ovalles and indicated that the 3 should leave the national territory in 60 calendar days from February 15th, 2019, in accordance with the Vienna Convention. The Ministry indicated that it cannot reveal the note sent to the embassy because it is a "diplomatic correspondence".
The government's decision was announced on Thursday after President Carlos Alvarado told the press that the representatives sent by Maduro had to leave the country without specifying the date. The president clarified that his government recognized Maria Faría as the representative of Venezuela in Costa Rica, who was appointed by the interim president, Juan Guaidó.
Faría was recognized by the chancellor, Manuel Ventura, since last February 1st. However, until this Wednesday it was received by the president in the Presidential House with the intention of officially presenting the credentials.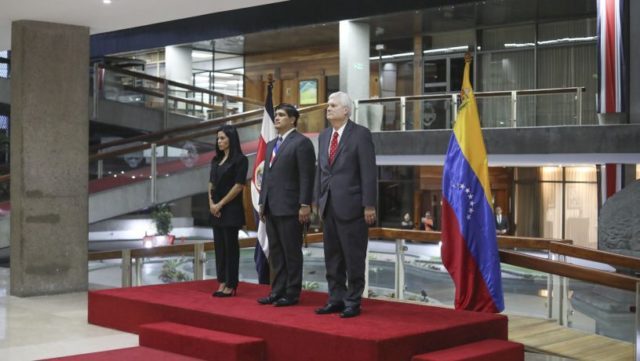 Guaidó swore upon himself as an interim president on January 23rd, in the middle of a demonstration to press for the departure of Nicolás Maduro, who began his so-called 2nd term on January 10th, 2019.
A considerable majority of governments around the world have decided to support Guaidó as the president of Venezuela, as long as new elections are held. Among them, the United States, Argentina, Brazil, Canada, Chile, Colombia, Guatemala, Honduras, Panamá, Paraguay, and Perú.  Additionally, European countries such as Spain, France, the United Kingdom (UK), just to name a few ones.
The president took the opportunity to reiterate that his Government will continue to raise its voice and support efforts together with other countries so that free and democratic elections can be held in Venezuela. He added that Costa Rica advocates the search for a peaceful institutional route that leads to free elections and the restoration of a democratic regime in Venezuela.