Cycling is a sport that is booming and more and more people are choosing to make it a lifestyle. What they do for the first time they will not want to get off the bike Costa Rica is, in general, a blessed country in many aspects, it also lends itself to be a perfect place to practice a variety of interesting sports as well as cycling.
Since this discipline combines exercise, fun, camaraderie and of course going out to see new places.
If you are one of those who like to ride on two tires touring the country.
Costa Rica is very interesting to practice sports and outdoor activities throughout the year.
At adobe, we have collaborators who practice this type of activity constantly and passionately. And one of them is cycling on a quiet afternoon. If you decide to tour by bike, we recommend that it will fascinate you.
Path of the conquerors
This is the Costa Rica mountain biking route, as it is one of the toughest adventure athletic events on the planet.
This race has all the micro-climates that exist in Costa Rica and is the only competition that crosses the American continent from the Pacific Coast to the Atlantic Coast.
For three days the route crosses the route through all the landscapes and terrain of Costa Rica. It is done once a year practically between 400 and 500 people from all over the world.
Guanaride
Guanaride is a three-stage Mountain Bike competition. It is carried out on the Pacific coast in the province of Guanacaste, specifically in the Langosta beach area. It lasts between 3 to 4 days and is made up of 250 kilometers in total.
In each of the stages, the cyclist must overcome steep slopes, dizzying descents, flat-rate travel at high speeds and trail sections, quite an adrenaline shock.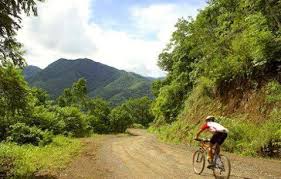 It is a little less hard than the route of the conquerors because all the competition takes place in the same climate. However, it must be considered that the days are going to be hot, you must carry enough hydration and appropriate food for this type of cycling.
Back to Arenal
This is one of the best routes for recreational cycling and takes place in the Arenal Volcano area. This route is characterized by offering impressive natural landscapes. Normally those who do it in a tourist way and thus take advantage of getting to know the volcano more closely.
Cycling in Costa Rica is a fairly popular and organized sport. During the year it is possible to find many more cycling routes and competitions in different parts of the country that can be done either as a competition or for leisure.
AMPM Cup
They are explosive Mountain Bike competitions that have an official sponsor. The categories are divided into circuits of 4,5 and 6 laps. For these races, the preparation is more explosive since what is sought is speed.
They are races of only one day and are carried out between 4 and 6 dates a year.
Cycling safety recommendations
-Have all the appropriate equipment to carry out the activity (knee pads, shin guards, gloves, helmet.
-Adequate clothing, appropriate footwear).
-Bring enough hydration and food in case the route doesn't have a nearby place to shop.
-Always be colorful vests, lights for the bicycle.
-Do not travel alone, what is indicated is to do it in a group to avoid inconveniences.
To conclude cycling permanently is a different way to take advantage of the natural beauties that Costa Rica offers.