Crowded paths, loud beaches and more people than animals – for a few years now people have been complaining about the booming tourism in Manuel Antonio National Park. Manuel Antonio is not only the small, thoroughly enjoyable national park in Costa Rica. Every time you walk along the paths in Manuel Antonio, plenty of other tourist and tour guides surround you. To have more time and serenity to explore nature, Carara National Park, also on the Central Pacific Coast, might be a good alternative for a hike. Carara is especially known for its spectacular bird watching, but contains practically all the animals you can see in Manuel Antonio as well.
Carara National Park – Location
Located in the Central Pacific Conservation Area of Costa Rica and close to the Pacific coast lies Carara National Park. In April 1978 the government established this area as a biological reserve, but increasing popularity made them upgrade Carara's category to national park in November 1998.
Its proximity to the bustling capital and other tourist hotspots makes Carara National Park easy to stop over for a visit and a nice hike. It is located about 40 miles west of San José and about 15 miles north of the beach town of Jacó. The park protects the basin of the River Tárcoles, near Orotina.
Biodiversity in Carara
Carara contains more primary rainforest than Manuel Antonio which means mankind never cultivated that land. As such, a wetter climate comes along with this. The tree growth is denser, and more mosquitoes and other insects are living here in huge numbers.
This environment attracts many bird species. Therefore, Carara National Park is a very popular bird watching destination. No wonder that our travel YouTubers Frank and Sandy saw many birds and winged animals while hiking here:
An truly unforgettable highlight in Carara are the scarlet macaws. The national park includes one the largest remaining populations of this wild, colorful bird in the whole country. You can only find them along the Pacific side of the country, but normally they are quite hard to spot. But in Carara National Park you have at a good chance.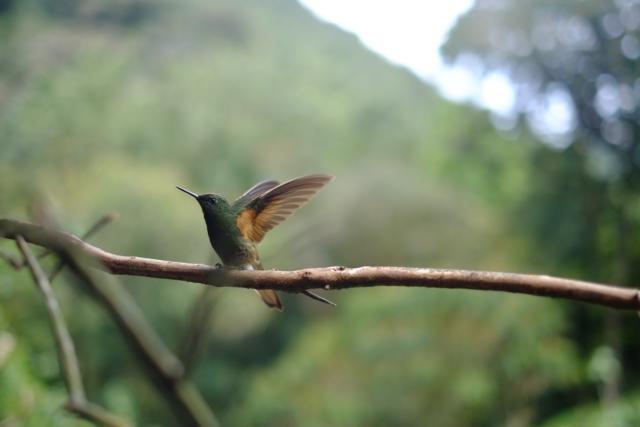 In addition to scarlet macaws, you can also spot hummingbirds, woodpeckers, motmots, jacamars, manakins, antbirds, orange-chinned parakeets and other parrots. Also several species of trogon, including the black-throated trogon call Carara National Park their home. In addition, several kinds of water birds make the bird diversity of the park complete. Near the river, you might find the anhinga, several species of heron, egret and kingfishers.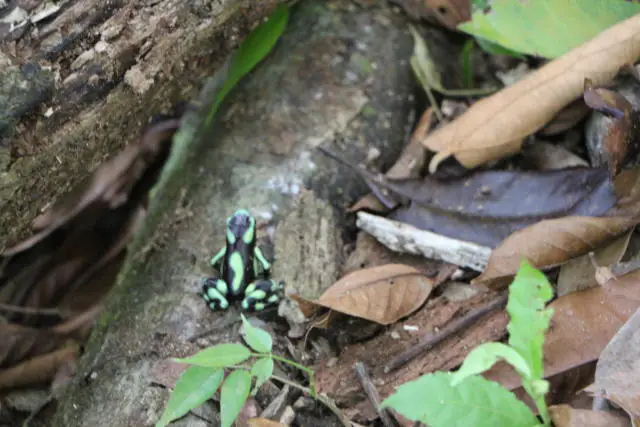 Likewise, the American crocodile and several snakes and lizards species enjoy hanging out at the riverbank. Watch out for the green and black poison arrow frogs you might meet here. Among the mammals of the park are white-tailed deer, collared peccaries, agouti, kinkajous. You can spot white-faced as well as howler monkeys and two-toed and three-toed sloths. However, the biodiversity is mainly the same as in Manuel Antonio. But especially the mammals might be harder to spot because of the dense tree cover.
Carara is well worth the stop, and will feel like a much more natural experience.