By Zack Harold
CHARLESTON, W.Va. — It's not the slight Spanish accent that sets Valerie Chavez apart from her classmates.
It's that, just a year ago, the Richwood Elementary fifth-grader spoke no English at all.
Valerie came to the United States from Costa Rica in August 2008 when her mother, Sonnia, lost her job.
Ayeri Batista, Valerie's older sister, invited the two to South Charleston to live with her family.
Ayeri, 33, had immigrated after she finished college in Costa Rica. Her original plan, she said, was to come to the United States, make money for her family and move back.
Those plans changed when she met Gilberto Batista, a Cuban immigrant. The two married, Ayeri became a U.S. resident, and they had two children, Jadon and Kimberly. The family lived in Florida for awhile before moving to West Virginia. Prayer, Ayeri said, inspired the move.
Valerie said she had been to the United States when she was younger but doesn't remember much of the trip.
But her return, she says, made an impression.
"I thought it was a really nice country … and they have a lot of things we don't have over there," she said.
Upon her arrival, Valerie enrolled as a fourth-grader at Richmond Elementary on Spring Hill Avenue in South Charleston. At the time, she knew no English.
The school provided her with an English tutor, and Valerie's nephew, Jadon, who is also in the fifth grade, was a big help in getting her adjusted to her new school and classmates.
Jadon, who says he picked up a little Spanish from his parents, was able to translate for Valerie and serve as a go-between for her and the other students.
Valerie now is fluent in English and had some of the best WESTEST scores in her grade, said her classroom teacher, Roger Samples.
When Valerie first came to his class, Samples said she spent a lot of time trying to be like the other students. The long-time teacher said it's a typical reaction among new students.
"They want to be like everybody else," Samples said.
But Valerie has begun to embrace her heritage and share it with other students. To foster that cultural exchange, Samples decided his class should celebrate this year's National Hispanic Awareness Month.
He hung a "FIESTA" banner on the classroom door and taped maracas and a sombrero to the dry-erase board. A multicolored pinata sat on a side table.
"To be honest, I didn't know we had such a thing until this year," the long-time teacher said.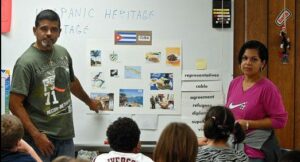 Samples said the month, which ran from Sept. 15 to Oct. 15, showed all his pupils that it's OK to have different backgrounds. Valerie, he said, was especially energized by the lessons.
"I saw how excited she was anytime we'd talk about anything in her culture," Samples said. "I wanted to do this for Valerie."
Throughout the month, the class greeted visitors with "buenos dias" (good day), introduced themselves starting with "me llamo" (my name) and replaced "Mr. Samples" with "Senor Samples." Samples assigned everyone in the class a Spanish name. Valerie became "Violletta," and Jadon took "Javier."
Students also sampled fruits from Latin America. The teacher served up avocado from Mexico, an onion from Peru, kiwi from Chile, a pineapple from Costa Rica, filberts and mango.
The fifth-graders researched famous Hispanic Americans and did a worksheet – written entirely in Spanish – to help them understand what Valerie's transition to English was like.
"You'll get a chance to see what it's like on the other part," Samples said.
Samples said he used National Hispanic Month to teach his non-Latino students about their backgrounds, too. He told the children to go home and ask their parents or grandparents about their family's heritage.
Some students had roots in Asia. Some were of Scottish descent. Others found out they were Native American. Samples said one boy told the class that his family came from Nigeria.
Jadon went home and asked his father, Gilberto, about his family's Cuban heritage.
"He has talked more with his father and brought the details back to our classroom," Samples said.
Last Thursday, Gilberto, accompanied by Ayeri and Sonnia, came to Samples' class to tell his story.
Gilberto, 44, said he was just 14 years old when he and his brother, along with thousands of other Cubans, stormed the Peruvian embassy when it opened its doors to people seeking political asylum.
"Cuba's a beautiful country, but there's no freedom there," he told students.
Gilberto said he and his older brother spent 18 days within the embassy walls while he waited to leave Cuba.
Eventually Cuban officials said anyone who wished to leave the country could do so. That led around 125,000 Cubans to the United States, a mass exodus now known as the "Mariel Boatlift."
Gilberto and his brother landed in Key West. Their parents arrived three months later. The family moved to Louisiana, where some relatives were living, before moving to Florida.
Gilberto told students that many people from Central America and the Caribbean don't make it to the United States like he did.
"They lose their lives trying to come to this country," Gilberto said. "You should consider yourself lucky to live in this country."
Samples said he used Hispanic Awareness Month to start teaching students about Ellis Island and immigration in the early 1900s. He uses Valerie to bring that lesson into the modern day.
"I can expand on that and say, 'Look, we have an immigrant in our classroom. She was in another country a year ago and is now your friend and classmate,' " Samples said.