With the mountain of mandatory paperwork properly authenticated and safely in the hands of our attorney by late June, as outlined in a previous report, my husband Layne and I were able to relax and enjoy the rest of our summer vacation in the States. Or so we thought…
No sooner had we gotten settled into a house-sitting situation for a friend than we heard from our attorney that there was apparently a new requirement: as part of the revised residency law that had gone into effect in March, Costa Rican Immigration was now requiring a police clearance letter from the court system in Costa Rica. She had learned that the letter must be obtained before she could file our papers; otherwise, she would be required to wait 10 days before filing again. As indicated in an earlier column, we were facing a six-month window of time in which to complete the submission of all the documentation, so any delays were a great cause for concern. Fortunately, we had signed a Power of Attorney with our lawyer before leaving Costa Rica so that she could act on our behalf in regard to any immigration issues. With that legal agreement in hand, she was able to acquire the proper document from Costa Rican court authorities. We breathed a sigh of relief.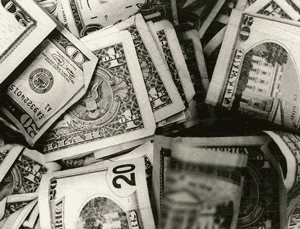 However, she was also in the process of having our documents translated from English into Spanish and she soon requested that we wire her the money to pay for that project. Our second payment of $500 in attorney's fees was also due, so we headed to our bank to wire the funds using account numbers and instructions our lawyer had provided. No doubt they made sense to her, but for the personnel in our local bank and to us, it might as well have been Greek.
When dealing with the transfer of monies internationally, it is vital to have all account numbers recorded correctly and, equally important, to know which number is a routing number or a bank number and which is the actual account number into which the funds should finally go. The reason this is so critical is that wire transfers are just like cash — once the funds hit the account, they are negotiable. Transpose a digit and you just handed your money to the wrong person. Our problem was that the personnel in our small bank were unsure which number was the account of the "beneficiary bank," the U.S. bank that would convey the funds internationally, and which was actually our attorney's account in Costa Rica. But one advantage of living in a small town, as we learned, is having a "personal banker." Our friends on staff at the local Wells Fargo worked with us for more than an hour to decipher the information and assure that we were wiring the money to the right account.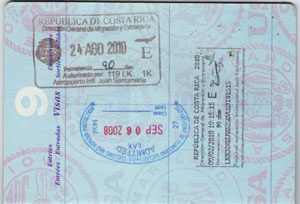 With the funds correctly transmitted, we again thought our residency duties were behind us but in her next email, our lawyer outlined two more requirements. In her latest visit to the Immigration Department, she had been informed that we needed to prove that we were now out of the country and not in violation of the tourist visa rule that visitors must exit Costa Rica every ninety days for at least 72 hours. Immigration officials had advised her that we should scan our passport pages where they had been stamped as we departed the country two months earlier and send that along to her. Not only that, but they had also stated that even if our documents had been properly filed by the time we were scheduled to return at the end of the summer, we still needed a round-trip ticket in hand showing we could leave within the 90-day limit in case our residency was denied.
Just to muddy the waters even more, Immigration had said that we should not feel that we must leave the country at the end of our 90 days, if our file is "active, complete and being efficiently attended." At the end of her email our attorney commented, "There seems to be a contradiction here." Ya think? Just another example of the sometimes confusing and ambiguous instructions issued by Costa Rican Immigration.
In an effort to fulfill these new requirements, however, Layne and I closely examined our passport pages and were dismayed to find that Costa Rica had never stamped our passports when we were leaving the country, only when entering. Plus, Immigration in the United States had only stamped our passports once, back in 2007 as we re-entered the country from Costa Rica through Houston, Texas. Our attorney was certain that we should have been stamped somewhere, so I called Immigration services at Los Angeles International Airport and was informed that they no longer routinely stamp returning U.S. citizens due to complaints by frequent travelers that their passport books were filling up too quickly. So now we had no way to prove to the Costa Rican Immigration officers that we were in the United States, not still in Costa Rica!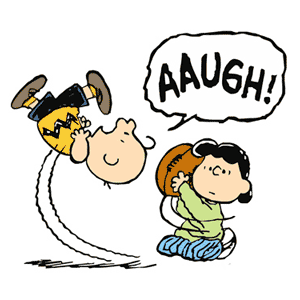 At this point, we were beginning to wonder how anyone ever acquires legal residency here. It reminded us of Lucy and the football in the Peanuts cartoons: every time Charlie Brown runs to kick the ball, Lucy pulls it away so his kick goes wild and he falls flat on his back.
Poor Charlie Brown's pratfall usually gets a laugh, but we were definitely not laughing as we passed the rest of the summer in a sort of limbo regarding residency. Only when we returned to Costa Rica in late August did we get a stamp on our passports that satisfied Immigration that we had indeed been out of the country, and our file was deemed complete. Finally, in September, when our attorney had her next meeting with Immigration on our behalf, our status was officially changed from "tourista" to "in process," allowing us to stay in the country while our residency process moved toward a successful conclusion.