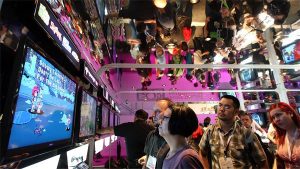 Costa Rica looking to break into the game industry in the U.S. with the participation of five companies at the show Game Connection, this coming week, reported the Foreign Trade Promoter (Procomer).
Costa Rican game developers will show their work to industry giants such as Nintendo, Sony, Televisa Home Entertainment and EA Sports.
TIP: Get our latest content by joining our newsletter. Don't miss out on news that matter in Costa Rica. Click here.
This is the most important trade fair for the sector and the companies "Fair Play Labs", "Psion Tech", "Interactive Tree", "Happy Dog Games" and "Mobile Multimedia" plan to seize the opportunity with over 50 business meetings and scheduled.
This is the second time that Costa Rica is participating in this event, as it is a growing industry in the Central American country.
The Trade Promotion manager Procomer Alvaro Piedra, said that "the video game industry in the country is very young, but has shown great ability, creativity and quality in their projects."
"Some companies have managed to sell their services in Europe and North America, have even Disney indirectly through companies that outsource services or developments," he added.
Meanwhile, Claudio Pinto, Fair Play Labs study, believes that the participation of Costa Rica in Game Connection is key to growth and innovation in the country.
"This will create significant opportunities to expand our customer base and to publish our new games," said the businessman.
The primary objective of the Costa Rican delegation at the fair is to offer "outsourcing" or outsourcing for game development platforms like Ouya, Web Browser, HTML5, Social Networsk, Sony PSP, PlayStation, Android, iOS, Windows and Mac
They offer services in character design, concept design, programming, animation, 2D and 3D designs, testing and quality control, development, sound effects and music composition.
Costa Rica will have a booth at Game Connection under the "Costa Rica Gaming Industry", where visitors can experience live games.
"This is a great time to reach more customers willing to hire national firms and also entrepreneurs can expand their view of the market, having contact with the 'big players in the industry' and generate business," added Stone .
The Costa Rica News (TCRN)
San Jose Costa Rica