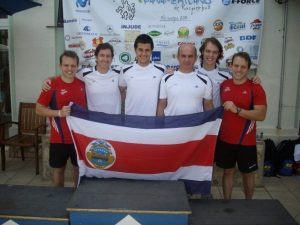 Teobaldo Fumero and Felipe Camacho gave Costa Rica its first win in the Panamerican Games wich are being held in Mexico.
Fumero and Camacho, both competing in racquetball, imposed on Colombia with a partial 15-13 and 15-19.
It was the first match in the doubles category, and it is still early to tell whether the players will advance to the next round, because they are still disputing the playoffs.
Playing individual, the Ticos lost two games against players from Bolivia. Teo Fumero fell to Carlos Keller (Pan American champion), with 15-14 and 15-7 scores.  Camacho played against Ricardo Monroy, who won 15-6 and 15-8.
Henry Núñez, president of the National Olympic Committee had forecasted that "it would be very difficult to see a Costa Rican with a medal on his chest" during the Panamerican games.
"We are looking forward to our next practice for the Professional Racetball Tour that will be held in Tampa Florida, and also to the national tournaments," said Marcelo Gómez, president of the Costa Rican Racquetball Association.
In the equestrian competition, Annie Eferstrom failed to make the top 15 cut. She was the only Costa Rican that qualified on Sunday, when she ranked 25th.
"Unfortunately no further progress was made, but we did our best. We showed elegance in our routines to the most powerful competitors," she said.
In beach volleyball, Costa Rica lost twice. The masculine team lost to Brazil 21-11 and 21-7.  Women scored 21-14, and 21-8, losing against México.
In taekwondo, Katherine Alvarado was eliminated in her first match 10-0 by the Cuban, Taimi Castellanos in the 67 kg category.
The Panamerican games are being held in Guadalajara, México, and will end next October 30th.