A sudden attack in New York City, at the heat of Halloween, left at least 8 dead and 12 injured after a van ran over several people who were riding in a bike lane. This took place after 3 p.m., local time, in the neighborhood of Tribeca (Manhattan). The New York Police Department (NYPD) have the driver in custody and treated at a nearby hospital.

Mayor Bill de Blasio has claimed that it is "an act of cowardly terror" and has asked New Yorkers to remain on alert, although for now it is considered the attack of a lone wolf and not part of a more serious terrorist operation. The police have confirmed that the detainee, admitted to a hospital, is Sayfullo Saipov, a 29-year-old man from Uzbekistan and resident since 2010 in Tampa (Florida), who had never been investigated in the United States of America.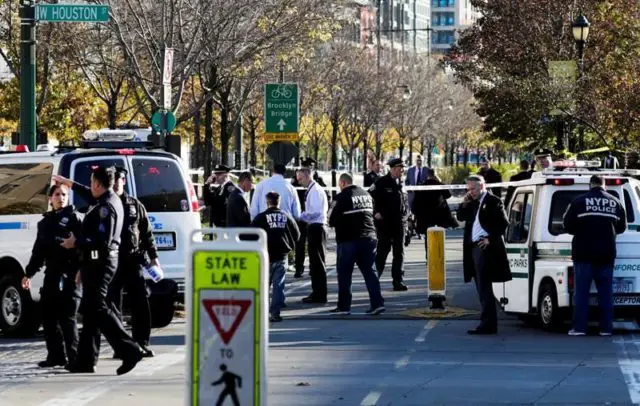 During the terrorist attack, which consisted of multiple hits, 8 people were killed, 12 more were injured, and 4 of those injured are in critical condition. The police department says that Saipov acted on behalf of the Islamic State, but there is no proof that he is an active member.
Today Costa Rica condemned the terrorist attack perpetrated on October 31st in New York City, which claimed the lives of 8 people and left at least 11 bystanders injured. A press release from the Foreign Ministry indicates that President Luis Guillermo Solis said that this new terrorist attack demonstrates the depth of Islamist fanaticism and said that there is only one remedy against it; the unity of peoples and governments to prevent it from continuing to settle in our countries national communities.
5 of the killed were Argentine and 1 Belgian
5 out of the 8 killed by the attack perpetrated on last Tuesday in New York were Argentines who celebrated in that American city the 30th anniversary of his graduation at the Polytechnic School of Rosario, informed official sources of Argentina today. Similarly, the Belgian Deputy Prime Minister and Foreign Minister, Didier Reynders, confirmed that 1 out of the 8 killed during the attack was a citizen of that European country.
In this regard, the text states, the Tico representative presented his condolences to the government of Argentina and their solidarity and condolences to the families of the victims of the attack in New York. "We embrace Argentina in this moment of pain", expressed the representative.
"The Ministry of Foreign Affairs and Worship reaffirms its commitment to support joint efforts to promote fundamental human values and coordinate actions to combat the scourge of terrorism", the press release said.
On his part, the United States President Donald Trump has ordered the tougher veto program to enter the country: "I just ordered National Security to toughen the 'Extreme Veto' program, being politically correct is fine, but not for this!", he affirmed.