Costa Rica is a country considered one of the main natural treasures of Central America. Its heavenly beaches and warm weather, almost all year round, make it a unique destination. That is why here we collect interesting information for you about the best beaches in Costa Rica to relax. These are Cahuita-Limón, Tambor-Punteras Silver, San Juanillo- Guanacaste, and Manzanillo – Punteras Beach.
Cahuita (Limón)
This exotic beach is located within the Cahuita National Park, in the province of Limón, on the Caribbean coast of Costa Rica. To get there from the capital city, San José, you can take a bus that will take you directly. The trip takes approximately 4 hours.
This beach is ideal to disconnect from stress and the routine, in addition, you can enjoy Afro-Caribbean dishes that we recommend you to taste. If you are looking for a warm climate we inform you that the temperature in Cahuita is ideal, because it has an average of 32° C in September and 29° C in January.
What activities can I do in Cahuita?
If you are a sports lover, on this beautiful beach you can do activities such as hiking, diving, or snorkeling. Also, you can visit the beautiful butterfly garden, in which magic catches your attention!
But if you want to enjoy the local gastronomy, we recommend you take the chocolate tour, in the indigenous reserve of Bribri. There, you will be amazed and ecstatic about the delicious taste of Costa Rican chocolate.
Tambor Beach (Puntarenas)
Playa Tambor is considered one of the best beaches in Costa Rica for its quiet atmosphere, it is also one of the most demanded by tourists to relax. Simply put, this place is perfect for travelers looking to get out of the hustle and bustle of other places.
In the waters of Tambor, you can go snorkeling. In addition, on the beach, you can join groups for pilates and yoga practice. It should be noted that this beach is located at the southern tip of the Nicoya Peninsula, in the district of Cóbano, in the canton and province of Puntarenas.
San Juanillo (Guanacaste)
San Juanillo beach catches you with the turquoise and crystalline color of its waters, in addition to having soft white sand like cotton that you will love sunbathing on. This is a beach that resembles the tail of a whale where, on one side, there are thousands of shells pulverized and, on the other white sand. The best time to visit San Juanillo is during the dry season; that is, from November to April. The average maximum temperature in is 33 ° C in February and 29 °C in October.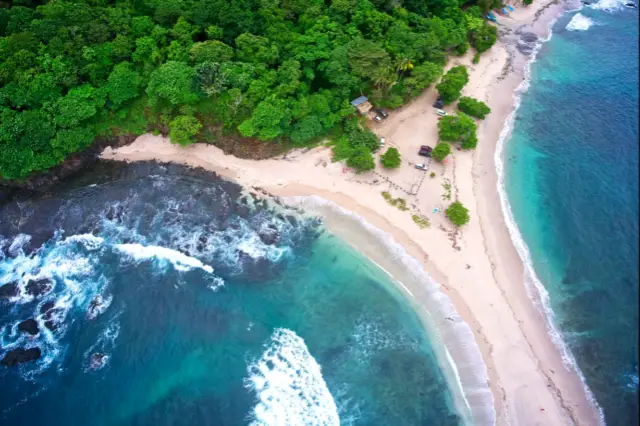 How do I get there?
To get to this beautiful beach, you must take the road from San José to Tamarindo and then take the other road from Tamarindo to San Juanillo (approximately 1 hour). There, you will be able to count on a variety of accommodations. In addition, we recommend you try the delicious food options. (Yet, you are advised that in the beach area there is no restroom service)
Manzanillo Beach (Limón)
Playa Manzanillo is considered a tropical paradise because it has an amazing coral reef that will leave you amazed. This beautiful beach is located on the Caribbean coast of Costa Rica; Manzanillo is located exactly south of Puerto Limón, in the Province of Limón.
If you are in San José you must take a trip of approximately 4 hours to reach this beach that awaits you with a fantastic warm climate. This is a quiet and relaxed place with friendly people and some of the best typical dishes for you to indulge.
Activities you can do on Manzanillo Beach
This place is perfect for snorkeling and swimming. The sea also has excellent spots for diving.
You can also go on a dolphin-watching tour along the coast and get to know the 3 species of dolphins that live in the waters around Manzanillo. If you like going on nature walks, here you can take a trek to Monkey Point or Punta Mona and see some of the native species of monkeys in their natural environment.
Costa Rica is a country that, undoubtedly, has many wonderful natural places that you should visit. That is why you are invited to live a unique and relaxing experience that we are sure you will not forget.