Marino Ballena National Park is one of Costa Rica's outstanding locations for whale and dolphin watching. Located in Uvita on the country's South Pacific Coast, it's a must visit city for anyone planning on traveling in Costa Rica. The trip can easily be fit into one's journey along the Pacific Coast. It's about an hour from Dominical and Manuel Antonio in the North, and two hours from The Osa Peninsula in the South.
Getting to Uvita from San Jose is no problem, there are buses that run daily from Tracopa Bus Station in the downtown area and the trip is roughly five hours depending on how many stops you make. The bus will drop you off in the center of town right by the Uvita Tourist Information center.
The Tourist Information Center is extremely helpful for anyone looking to plan trips out to the Marino Ballena National Park. They offer a variety of excursions including: snorkerling, scuba diving, and whale/dolphin watching. With their help I was put in touch with Ballena Aventura and had the experience of a lifetime.
Ballena Aventura's main office is right near the entrance to the Marine Park and easy to get to from the Tourist Information Center. Walking is possible but it's about 40 minutes and given Uvita's tropical climate it might be better to drive or get a taxi. Taxi's from The Tourist Information Center to Ballena Aventura only cost around 4,000 colones, 8 U.S. dollars.
Once at the office I was introduced to the tour guide, Evaristo. Originally from San Jose, Evaristo moved to Uvita to pursue a career where he could work with animals and help educate people from around the world about the beauty of Playa Uvita and the marine life in the area. He speaks English and Spanish.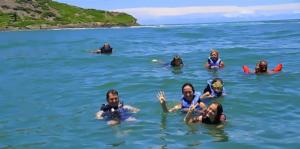 I went on the combination tour which left from Playa Uvita out past La Cola de Ballena, a large sand bar shaped like a whale's tail that stretches out from the main beach and can be accessed during low tide.
Almost immediately we came upon a group of dolphins. Evaristo talked to us about the intelligence in dolphins and how they interact with eachother. For a while we circled around the bay seeing different dolphins that came very close to the side of the boat, until eventually we came upon our first whale.
Having never seen a whale in its natural habitat before this was a truely surreal experience for me. It was breathtaking to see just how big the animal was. Evaristo said the whales in this area are very playful and not as shy to be around boats as other species. Uvita's whale watching season starts in mid July and is at its highest point around late August or early September.
The tour went on for about 3 hours during which we were given water, fresh pineapple and water melon, and brought to see some beautiful rock formations along the coast. We then traveled outward to Roca Ballena, a small island where a rare species of bird was nesting. There we jumped off the side of the boat and swam in the warm water for about half an hour.
Playa Uvita is also great for spending a day at the beach and costs around 3,000 colones to enter, 6 U.S. dollars. The money goes towards maintaining the National Park and providing a safe space for the variety of animals that live there. I'd recommend making Uvita and Ballena Aventura part of your journey through Costa Rica!