"Tortuguero" means "region of turtles" in Spanish, which fits the area perfectly. If you love turtles and are as fascinated with their nesting habits as we are, then you have to visit. While you're there, visit the Sea Turtle Conservancy (STC) and learn everything you've ever wanted to know about Green and Leatherback Turtles. STC is the oldest and most accomplished sea turtle organization in the world. It is a not-for-profit organization based in Gainesville, Florida, which was founded in 1959. STC has research centers in Tortuguero, Costa Rica, and Panama, and supports hundreds of other sea turtle projects around the world.
TIP: Get updates on upcoming Costa Rican Retreats & Events by joining our newsletter. Don't miss out on what's happening around you! Click here.
Since their founding, STC's research and conservation initiatives have helped save the Caribbean Green turtle from immediate extinction, as well as raise awareness for sea turtles around the globe with nearly 50 years of experience in national and international sea turtle conservation, research, and educational endeavors.
History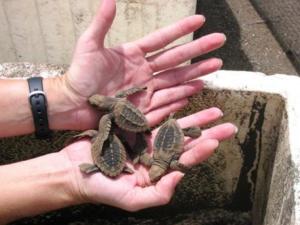 In the 1950's, Dr. Archie Carr developed a strong interest in sea turtles. He wanted to find out where Green turtles nested in the Caribbean, because no one had discovered the answer to that question at the time. He came to Caribbean and found Tortuguero Beach as one of the largest nesting sites for the Green turtles in the world. There, he began a research center.
In the early 1970's, Tortuguero National Park was founded to give more protection to the Green turtles. Of course, the pressure has continued since then. There are people that harpoon the turtles in the water, which is completely illegal. Turtles disappear and their nests are poached. STC was established to keep this from happening and protect the turtles from human intervention.
When we were visiting Tortuguero, we got the chance to sit down with Dr. Roldán Valverde, Scientific Director of Sea Turtle Conservancy. He answered all of our questions about STC and the amazing work they o to save the turtles.
About Dr. Valverde:
Born Costa Rican
Graduated from Texas A&M; Post-doc at University of Michigan
First professorship at Xavier University in New Orleans
Professor at Southeastern Louisiana University since 2004
Currently works at STC in Tortuguero as Scientific Director (as of May 2016)
So, what exactly does STC do at this research center?
For more than 40 years, STC's monitoring program in Tortuguero has provided information on the reproductive ecology and migratory habits of sea turtles. Researchers continue to monitor nesting trends, growth rates, and reproductive success.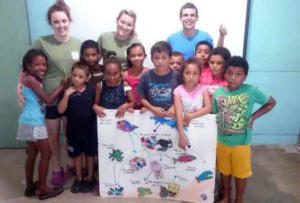 STC has a team of 9 field assistants and 10 full-time staff from all over the world. The field assistants are mostly grad students, who use their time working with STC as an internship or research project.
On a daily basis, we tag, measure, collect data from, and watch over the turtles on the beach. We provide human presence to turtle poachers by patrolling the first 5 miles of the beach, which is the only part of the beach open to the public. We also train future researchers, like the field assistants that work with us.
We are also involved in community development. We interact with the community, tell them about the turtles, and provide advice about what can be done to protect them. Furthermore, every year, tour guides are mandated to receive a refresher course on the turtles. Every day for a week, STC gives presentations on turtles, what to do, what not to do, any collected data for the year, the number of nesters, and the number of poaches.
Tell me about the tagging of the turtles.
We don't tag the babies, because there is no tag that can withstand such a change in body mass. Most tags don't stay on the turtles for very long, they fall off for many reasons.
We do have some nice records – the longest record we have is a tag put on in 1991, but we have been tagging turtles since the 1950's.  The few records we have show us a lot of things, reproductive longevity and re-migration, things like that.
We are also doing a little bit of satellite tag work. Last week, we put satellite transmitters on two green turtles. With the regular metal tags, we can only tell where the turtle's endpoint was. With satellite tags, we can track the turtles almost in real-time. What happens to the turtle, what threats they may perceive, their migration route, depth, surface time.
Satellite tagging will not replace regular tagging, because the tag is expensive, as well as the satellite time. Satellite tag prices depend on its capabilities. We can only tag a few in that way, but we can get a lot of information from the few satellite tags we have.
What general data trends have you seen since working here?
Green turtles are showing a very good response to the protection measures. The trend has gone up since we've started working here, which shows that the effort we go through every year has paid off. We are happy to see a big increase in the population of Green turtles.
Unfortunately, the nesting of Leatherback turtles has been dropping. This season, we only had 6 turtles come. We don't know exactly what's going on. Other sites have seen an increase in population – Tortuguero may be on the outside of the range. It is unfortunate that we have seen such a decrease, because the Leatherback turtles is forecast to go extinct.
What does "patrolling the beach" involve?
We try not to interfere with natural processes that occur on the beach, such as jaguars eating turtles or their babies. We only interfere with human processes, because humans can be very destructive.
STC cannot police or fine poachers. The policy is to not confront them, because the situation can become dangerous very quickly. If our researchers see something, they report it to the local police. The most interaction we have with humans on the beach is with the tour guides.
Every week, we send someone to count the tracks on the entire 18 miles of the beach. The guy that does it is very fast. We have noticed that in the first 5 miles, there are very few turtles. The next 13 miles have a lot more. We call this a "normal distribution," with a concentration of turtles in the center. It has been like that since we have records. We concentrate our efforts here because it's where the most human impact is.
Speaking with Dr. Valverde gave us an idea of all the dangers a turtle encounters in its life, even before it hatches, and all that STC has done to provide protection for them. As the research and data shows, they have had real, positive effects on the Green turtle population in Tortuguero. Hard work pays off! If you would like to do something to help the turtles too, STC has provided a list of easy tasks, or you could make a donation to the team. You can also join the STC team by following this link.