The president of the National Commission for the Prevention of Risks and Management of Emergencies (CNE), Alexander Solis, made a call for prevention by the arrival of tropical storm waves that would be arriving in our country this weekend, impacting the communities already affected by the heavy rains the previous week.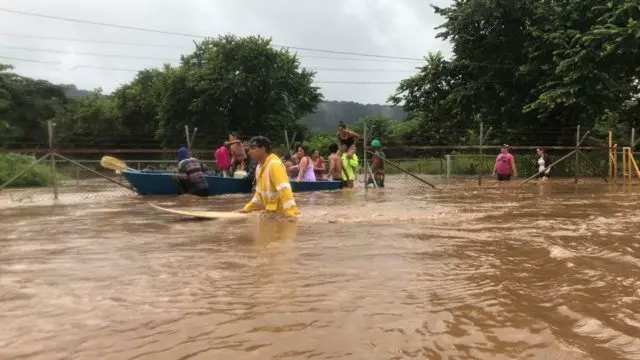 According to the National Meteorological Institute (IMN), wave N° 40 arrived this Thursday and the 41st over the weekend, and they would be affecting mainly the Central Pacific and South and the Central Valley. Both phenomena are typical of the rainy season of the present month of October.
In this context, the CNE leader insisted on the importance of staying alert because there are still saturated soils and places like Guanacaste that are waterlogged. "There are affected areas that were impacted by the past rains, residents must be alert, vigilant and attentive to the instructions of the Local Emergency Committees", he said.
On alert 
The districts of Cóbano, Lepanto and Paquera remain in red alert belonging to the central canton of Puntarenas.
For its part, the cantons of La Cruz, Santa Cruz, Nicoya, Nandayure in Guanacaste and the districts of Barranca, El Roble and Pitahaya in Puntarenas continue on yellow alert. Solis informed that these alerts will be maintained until a complete verification of the zones is done, specially where there are sites still affected by the overflow of the rivers and the subsequent saturation of the surrounding lands.
In 24 hours only one shelter has been closed. According to the latest update, there are still 512 people in 12 shelters. "In Paquera and Jicaral and other sectors there are very damaged houses so the return of families to their homes will not be possible for the moment", said Alexander Solis.
Precisely, the Joint Institute of Social Assistance (IMAS) entered the peninsular zone to collect the data of the affected families and proceed with the temporary aid. It will be tomorrow that the Ministry of Housing would be doing the respective evaluations to measure punctually the degrees of damaged infrastructures and determine the actions to be implemented.
The MOPT has already started the damage assessment, ICE works in the rehabilitation of electrical and telecommunications services and AYA maintains the support to ASADAS to determine the affectations and distribution of potable water. "The institutions have been organized to determine if the resources with the regular budgets are enough for the repairs or if it will be necessary to proceed with emergency decrees for additional fundings", explained Alexander Solis.
"By Thursday we had established the required preventive logistics in the communities. This possibly made the difference in the positive fact that we do not have more fatalities", concluded Alexander Solis.