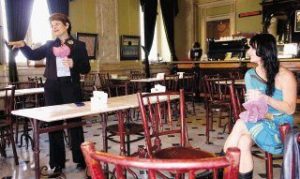 by TCRN Staff

The winners of the XXVI Festival of Choreographers Graciela Moreno yesterday received their prizes at the National Theater, the organizer of the activity.
Jody Steiger, director of the historic theater, and Virginia Pérez-Ratton, Director of the foundation TEOR / éTica, passed out the awards.
Ana Maria Moreno, creator of the choreography cafile, picked up two awards: first prize, $1,500 (¢ 873,000), and the audience award at $750 (¢ 436,500).
"It's a great prize. It was the first time I dared compete in a festival like this. The award motivates me to go this route, "he noted Moreno.
Second place went to Marco Fonseca and José Raúl Martínez, creators of kitsch and a special mention to Yvonne Duran for his work in prayer.