Have you ever stepped into a homeless person and felt bad for them? We can't help thinking that we could do better, but we've got our own lives so we move on. Life is hard to deal with sometimes because you're out there doing the best but some don't have the same opportunities. Costa Rica's capital of San Jose is having a project that can help people on the streets.
The 'Chepe se baña' project is made by the Promundo foundation. Their goal is aiding the homeless and improving their way of life. Moreover, this can help San Jose's tourism and contribute with commerce by making the city look healthier.
The project's named as a reference to Costa Rica's capital. 'Chepe' is the Costa Rican equivalent for Jose, so you might hear people referencing San Jose as simply Chepe. In the project's case, it refers to the regular Joe that lives in the capital city.
In the US, the first homeless assistance act was the McKeeney-Vento act in 1987. This federal law provides federal money for sheltering program that fights homelessness. In recent years, former president Obama created the Obamacare program that could aid even more people in poverty situations. In 2009, the US had between 1.5 to 3 million homeless people according to the National Coalition for the Homeless. The municipality of Costa Rica's capital estimates 1.800 homeless persons.
The Promundo Foundation
Promundo was founded in 2005 as a private organization that cares about social welfare. It was an initiative by Mauricio Villalobos and Gilberth Cascante, soon after people from multi-disciplinary groups joined in the cause to aid people in poverty conditions not only in Costa Rica but in Central America as well.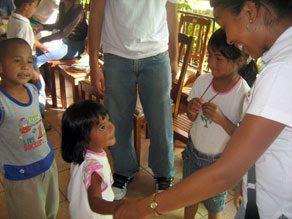 The Costa Rican foundation was one of the many that lent a hand in 2008 at Guanacaste. At that time, heavy rains left 1.500 victims all over the nation. Promundo acted quickly to gather and distribute supplies, including food and clothing. They personally went to the disaster zone and assisted the victims.
The foundation identifies itself as a Christian group. Lately, they promoted the 'Por estas calles' program that helps homeless or poor persons find their way. It's a light in the darkness for many that feel they aren't as lucky as the next guy in Costa Rica.
Back to 'Chepe se baña', the project's objective is helping around 200 homeless people daily in San Jose. They're not just giving persons a bath, it's a chance for them to turn around the tables in their lives. Carlos Araya leads the project and says that is not about helping, is about transforming people.
"It's also about reinserting people into society. Water transforms, it gives dignity and health. Our project tries getting closer to the inhabitants of San Jose", Araya affirms.
The 'Chepe se baña' bus
To reach the 200 people a day mark, Promundo plans using a bus to drive around the streets of San Jose. That bus will have four showers and a ramp so that handicapped people can get in it. Araya states that the bus phase of the program is just starting.
"We're designing the project, calculating costs and getting the paperwork done. The funds for the project will come from donations and private enterprises that are welcomed to join in", he finished.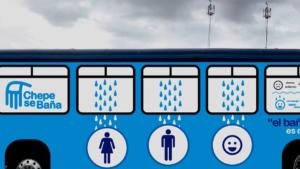 Promundo's projects won't get close to the scale that the numbers that Obamacare reached. The American health program helped 15 million persons and reduced the number of uninsured adults from 18% to 13%. Still, having an initiative is better than not having one at all and programs like this are always welcome. Human beings need living in societies, so why not do our part and collaborate with the lesser fortunate in life?
If you are in Costa Rica, you can make donations calling the 7114-5602, you can send them an Email, or visit their Facebook page.