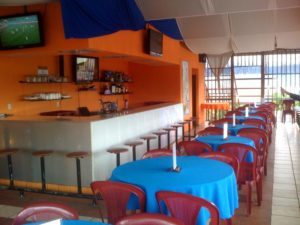 If you are looking for a place in Costa Rica to watch Super Bowl XLVI, and see the New England Patriot take on the New York Giants, Tom Brady vesus Eli Manning in the house that Peyton Manning built in Indianapolis, then look no further than Texas BBQ in San Joaquin de Flores.
This quiet suburb of Heredia located about 15 minutes outside of San Jose and only about 10 minutes from the Juan Santa Maria Airport is where you will find the closest thing to real Texas BBQ in Latin America in a great establishment with a downstairs based on a Texas motif and an Upstairs sportsbar with a great view of the mountains surrounding the central valley.
You will not only be able to get away from the large crowds of San Jose, and enjoy the quaint hospitality that you would expect to find in a small Texas town.  the owner Wade will come a greet you with a handshake and a smile and carry on a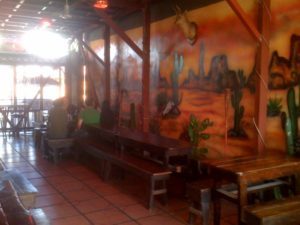 conversation with you to make you feel more at home in this country filled with strangers.
Texas BBQ and sportsbar invites you to the 2012 Super Bowl party with two different environments. The first being an upstairs open bar with 3 big screens and a giant screen with projector. The second being downstairs has two large screens  and the environment will take you back to the old west with their original BBQ cooked on their own slow cook pits with an open flame.
They gaurantee the best BBQ ribs and brisket in latin America. You can also try their incredible nachos or Texas fries. You can enjoy a thick burger or one of their many incredible appetizers. Not to mention their home made french fries and onion rings.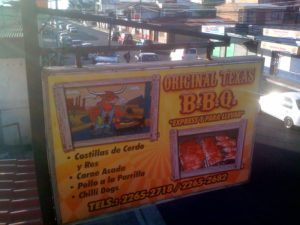 So come and enjoy the game, some down home Texas cooking, a comfortable atmosphere, and great drink specials outside the traffic and crowds of San Jose.  Enjoy a little small town Texas in Costa Rica.
Super Bowl Specials
2×1 domestic beer for 1800 colones, or 2 beers for about $3.60.
Buckets of beer (6 beers) and 12 wings for 10,000 colones. or about $20 
Maps, Directions, and Contact Info
San Joaquin de Flores on the road between the airport and Heredia, 100 meters East of Banco Costa Rica, next to Musmanni
Phone number: 2265-2682
Phone number:2265-2718
Email – [email protected]