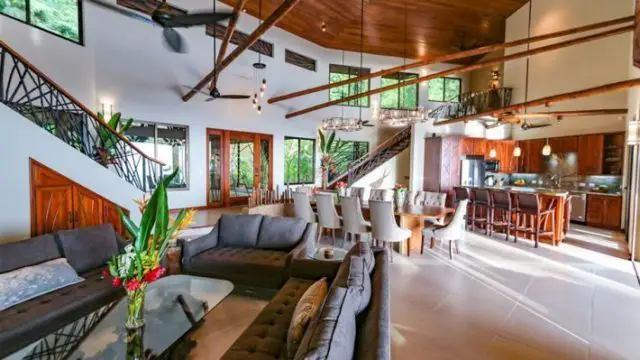 Casa Bambu is a place of dramatic beauty and profound inspiration… a refuge for relaxation, reflection, and rejuvenation of mind, body, and soul… an oasis from which to share once-in-a-lifetime moments with those you love.
An Overview
The House: Intriguing architectural lines and captivating interior design combine for an incomparable experience.  Clean, contemporary and uncluttered… yet comfortable, warm and oh-so-lovable. Spaces flow seamlessly from indoors to out, for quintessential Costa Rican living.
The Location & View: Better than beach-front!  At 1,000 ft. elevation, breezes from the sea-by-day and the mountain-by-night provide consistent cool comfort.  The sweeping panorama of the Pacific Ocean; spectacular sunset views 365 days per year; ever-changing white-water breakers stretching from the ancient lava-flow rocks of Dominicalito Bay to the islands of Manuel Antonio.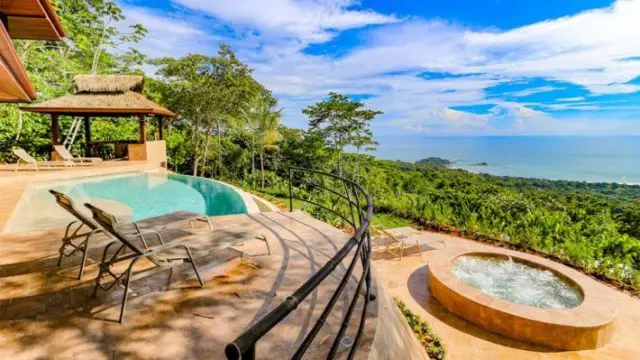 The Jungle & Wildlife: More than 60 acres of pristine, TRUE primary rain forest reserve, stretching to the top of the mountain, never to be touched…  Hike the trails and hear the echoes of a primordial world.  Trees exceeding 30 ft. circumference and soaring more than 150 ft. tall…  100 foot cascading waterfall… boundless birds including Toucan, Aracari, Laughing Falcon, White Hawk, Swallow Tail Kite, Mealy Parrot, Orange-Chinned Parakeet, King Vulture, Oropendola, Trogan, myriads of hummingbirds, and the occasional Scarlet Macaw…  teeming wildlife including White-Face Capuchin Monkey, Howler Monkey, Three-Toed Sloth, Kinkajou, Coati Mundi, Wooley Opossum, Anteater, Agouti, Whitetail Deer, Peccary, and the tracks of wild jungle cats….    Isn't THIS what's drawing you to Costa Rica in the first place?
The Community & Neighbors: Arbol Viejo – Exclusive, private, the boutique gated community set at the top of the road in Marina Vista I.  (Second of only five homes to be built, including the builder's personal residence.)  Professionals who've accomplished career goals are reaping the rewards of their labors, discriminating in taste, demanding of quality, yet down-to-earth and enjoying life.  Shared amenities and care-taking for turn-key ease of living, including roadside landscaping, common jungle hiking trails, 24-hour security presence, water system, community vivero, 1x week home grounds-keeping, available weekly house cleaning.
The Area: Convenient access — 6 minutes to Dominicalito beach; 10 minutes to the surf-town of Dominical; 20 minutes to shopping in Uvita; 30 minutes to the finer restaurants of Ojochal. And yet… we realize that Casa Bambu & the Arbol Viejo Community may not be for everyone, so here's a list of things you will NOT find here:
Commercial corporate development
Transplanted California-style "luxury community"
Busy road with accompanying traffic noise
Cookie-cutter, repetitive high-end house formulas
Homes designed for photo-shoots rather than for livability
Neighbors who need to cash-flow their properties with high volume rentals.
Inspiration, Concepts, and Commitments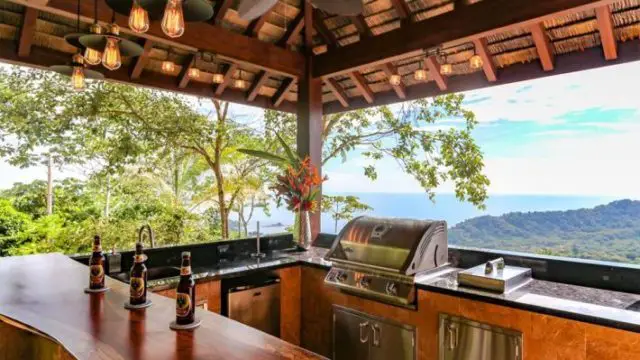 Casa Bambu has been created and constructed by a talented husband/wife team (professional engineer/designer) and is crafted to meet their own exacting standards for the perfect tropical home.
The Visual Inspiration is drawn from three sources:  the vaulted sky, the endless sea, and magnificent soaring bamboo.   The great-room features 24-ft. high ceilings and 14 ft. clear-opening accordion doors, echoing the expansive heavens and horizon outside.   From the front entry threshold, and throughout the house, eyes are drawn to the perfect union of infinity-edge pool and ocean and sky.  Graceful giant bamboo culms dramatically span the interior from entry to Oceanside.
The Conceptual Themes are elegance without opulence, contemporary lines without coldness, and an artistic celebration of nature brought indoors.
The Commitment to Excellence and the builders' personal philosophy is evident throughout:  "We will only design and build a home that we ourselves love and would be happy and proud to live in."
Design and Details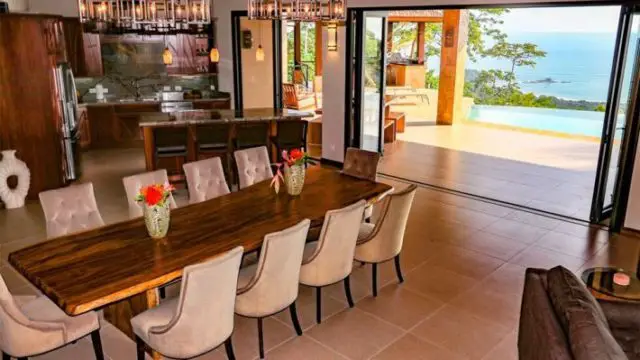 Amazing, enchanting, spectacular, inviting… just a few of the words people have used to describe the unique feel of Casa Bambu.  From the big-picture "wow" factor to the discovery of small delights, each and every facet has been carefully planned and executed.  Beauty, balance and blending – these are the guiding principles for the finishes, furnishings, and décor of Casa Bambu.
Why four master bedroom suites?
Maturity and wisdom teach us that the most beautiful experiences in life are the ones we share with those we love – that's why Casa Bambu features four unforgettable master bedroom suites.  It's inevitable – you will want to share the incredible magic with your family and friends.  And you'll want each of them to awaken to the majesty of the breath-taking view, experience the comfort of exquisite appointments, and drink in the tranquility of special private spaces.  Casa Bambu is designed so that each of the four master suites offers its own unique charms and secrets.  When your guests come to stay, you'll never need to apologize for someone getting the "not quite as good" bed & bath.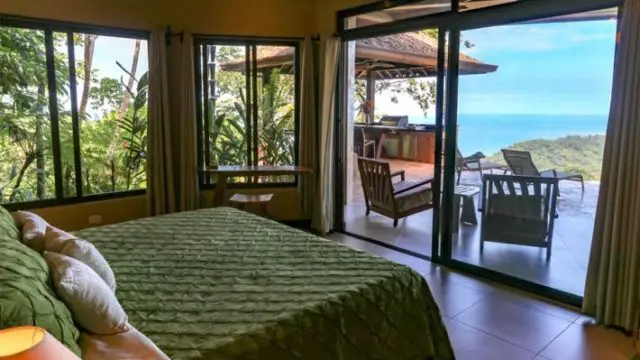 The two lower suites overlook the infinity edge pool.  Each has its own private "secret garden," one with loungers for gazing up into the towering bamboo, the other with a carved boulder outdoor soaking tub. The two upper suites each have private balconies, bringing the spectacular Pacific Ocean vistas to an even "higher level."
About the 5th
The first-floor bonus room with AC and adjacent full bath can flex to serve your needs as you see fit.  Use it as your generously sized private study/office, and/or as an overflow 5thbedroom for visits from the grandkids.
Fine Finishes
Wonderful Wood – Solid tropical cedar cabinetry, doors, and more – all "one-of-a-kind" custom designed and detailed exclusively for Casa Bambu.  Expansive solid wood "tablia" (tongue & groove) ceilings throughout the entire house – inside and out.
Magnificent Metal – Superior crafted deco windows, doors and railings for 3-D artistic security – custom designed exclusively for Casa Bambu.
Stunning Stones – Exotic granite and onyx countertops;  rough-carved stone sinks;  polish marble bowl sinks;  pebble stone accents;  entry portico, pool decking and column coverings in native coralina;  white marble pool tiles;  hot-tub tiles of Royal Veta stone;  giant carved boulder soaking tub.

Bathroom

Tasteful Tiles – Discriminating selections of texture, color, and dimension, combined to aesthetic perfection.
Luminescent Lighting – Artistic fixtures, with size, shapes, and dimensions selected to complement specific areas.  Custom designed ceramic wall-sconces illuminate outdoor living areas, casting a glowing "butterfly" design in golden light.

Locally crafted, solid-tree-slab table (11 ft. x 4 ft.)
Classically chic upholstered dining chairs (US)Stainless Steel appliances in kitchen, as well as outdoor BBQ grill.

Furnishings & Décor

Dramatic Indoor Dining for 10:

Locally crafted, solid-tree-slab table (11 ft. x 4 ft.)
Classically chic upholstered dining chairs (US)

Sophisticated Indoor Seating & Media:

Comfortable & roomy modern sofas, tufted seat micro-fiber (US).Locally crafted Ron-Ron root coffee table, tempered glass top.Naturally weathered wood grinding pedestal side tables, tempered glass tops.Custom designed locally made media center, native wood with bamboo slat accents.

The unmatched beauty of nature's own awe-inspiring handiwork:
Giant river salvage cedar piece (12 ft. wide, 6 ft. tall) front and center high on ocean side wall.
Intricate, richly colored Cristobal root slice in the outdoor living area.
Complex root structure and weathered cedar driftwood at tops of stair landings.

Six species of bamboo.
Flowers specifically were chosen and strategically placed to attract butterflies and hummingbirds.
Ylang Ylang trees – heavenly fragrance to grace your mornings and evenings.
A vast array of color and texture – giant ferns and elephant ears, colorful crotons and heliconias, delicate flowers and bromeliads.Dramatic spans of giant bamboo culms.

Custom designed and locally crafted solid wood furniture.
Native and exotic woods including Guapinol, Guanacaste, Mango, Teak, Tropical Cedar, Manglio.
King size beds (pillow-top mattresses), complimentary cabinets, night stands, mini-tables & stools.
Soothing color palettes and finishing touches, combining fabrics, paint selections, lighting, wall, and 3-D art65" Sony Smart HD TV.

Second Bath

Bedroom Suites

Outdoor Living, Dining, Lounging & Entertaining

Custom solid wood sofa and lounge chair seating groups, with custom Sunbrella® fabric cushions (outdoor living and two upper balconies).
Custom teak outdoor dining table with seating for 10.
Custom solid branch mango-wood coffee table.
Guapinol solid wood slab bar top, custom solid wood bar stools.

Artistic Selections

The unmatched beauty of nature's own awe-inspiring handiwork:
Giant river salvage cedar piece (12 ft. wide, 6 ft. tall) front and center high on ocean side wall.
Intricate, richly colored Cristobal root slice in the outdoor living area.
Complex root structure and weathered cedar driftwood at tops of stair landings.
Dramatic spans of giant bamboo culms.
Paintings, prints, carvings, and ceramics – some from local artists, some imported – all impeccably selected and positioned.

Kitchen

Fun in the Sun

White-marble tile infinity edge pool features shallow lounging shelf.
10-person hot tub on semi-private lower terrace features comfortable ergonomically angled seats.
Outdoor shower (solar heated) nestled under towering bamboo.

Landscaping: 

Six species of bamboo.
Flowers specifically were chosen and strategically placed to attract butterflies and hummingbirds.
Ylang Ylang trees – heavenly fragrance to grace your mornings and evenings.
A vast array of color and texture – giant ferns and elephant ears, colorful crotons and heliconias, delicate flowers and bromeliads.

Boudoir Suites

1) Café Azul – 1st floor, northside, this suite overlooks and opens onto the infinity pool and a two-person café bistro table.  Here you will find a soothing soft color palette of "café au lait," accented with clear blues and frothy whites inspired by sea and sky.  The dimensional basket-weave custom headboard and cabinetry is echoed on the embroidered bedding.  The bathroom features a large garden tub and generous rain-head shower.  The countertop is translucent "Lumen Granite," which is under-lit to provide a soft blue-green night-light glow.  Bath and shower tiles combine semi-reflective with dimensional bluish white.  Original abstract paintings bring color and motion to both bedroom and bath.  From the bathroom, a door leads out to the private, "secret garden."   Relax and recline under mesmerizing bamboo, as the rustling leaves and gently tapping culms create a music all their own.

2) Madera y Roca – 1st floor, southside, this suite overlooks and opens onto the infinity pool and two comfortable armchairs.  Décor uses natural greens as a backdrop for the simple beauty of wood and stone.  The dramatic headboard is solid Guapinol with gracefully curved edges of the living wood.  Artwork features framed yellow bamboo detail, and the life-sized wall mural of black bamboo.  The bathroom celebrates stones of all sizes – small accents in the rain-head shower, a carved granite sink, and most amazing of all – a giant carved boulder two-person soaking tub set in its own private outdoor garden.

3) Pajaro Elegante – 2nd floor, northside, this suite opens to a private balcony with a view focused on the lava-rock peninsula of Punta Dominicalito.  Giant bamboo just outside your window, coupled with carved tropical birds inside, give the sensation of floating in the treetops.  Hues of gold and accents of teal and red create an atmosphere of elegance.  The bathroom includes a large soaking tub, large rain-head shower, dark chocolate tiles accented with iridescent gold glass, polished onyx sink, and translucent "Velvet Onyx" counter-top that is under-lit for a soft night-light glow.

Garage

4) Hojas Verdes – 2nd floor, southside, this suite opens to a private balcony with a view extending north all the way to Manuel Antonio.  Tropical greens inspire the décor of this suite:  intricate leaves on the bedding; micro-stone accents surrounding the large soaking tub and covering the over-sized rain-head shower floor; and the fresh clear color of the "Emerald Granite" countertop.  The many shades of green are complemented with the deep natural hues of tropical cedar custom furniture.   Dimensional carvings complete the refreshing beauty of this suite – from abstract tribal carvings to larger-than-life solid wood carved seashells.

On the Technical Side:

It's not enough to simply "look good" – it's just as important that a house "lives good," and stays that way!  Casa Bambu offers the perfect harmony of form and function.

With ten years of travels throughout Costa Rica, the builders have gleaned invaluable insights into what does (and doesn't) contribute to an ideal home in this part of the world.  Seemingly mundane things like airflow and directional aspect contribute immensely to comfort and ease of living, and yet often seem overlooked.  With rigorous standards of US Professional Civil Engineering, great care has been taken in all areas, including durability of construction, the stability of land, and management of high volume rainfall.

A combination of "deco-metal" screened windows, plus operable screened doors & windows, are strategically placed on both the mountain and ocean sides of the great room.  Perfectly positioned from floor to vaulted ceiling, these allow for constant airflow throughout the day and night – eliminating the need for large-scale and expensive air-conditioning.  Ceiling fans in all indoor and outdoor living spaces augment the continual air movement.

Laundry Room

The bedrooms are designed to flex either way – enjoy the natural airflow, or choose air-conditioned sleeping comfort.  Screened openings in the connecting master bathrooms provide flow-through breezes when desired.   An ingenious "louver" system in the upper bedrooms can be opened to capture the natural currents, or closed to seal for AC use.

The large 2-car entry portico provides dry cover for unloading passengers and groceries no matter what the weather.  Generous 1.5-meter roof overhangs and over-size gutters assure interior dryness and enjoyable outdoor living, even in the heaviest of downpours.   Roof-top solar water heaters provide eco-friendly hot water for shower and bathing comfort.

[maxbutton id="4″ url="https://thecostaricanews.com/real-state-contact/" ]

 

Amenities

·         Washer/Dryer

·         Covered Balcony

·         Cable/Satellite TV

·         Broadband Internet

·         Patio/Deck

·         Ocean View

·         Mountain View

·         Swimming Pool

·         Air Conditioners