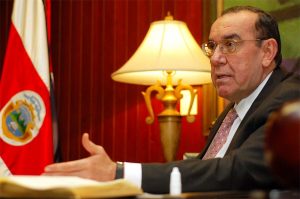 Rodrigo Arias, brother of Nobel Peace Prize 1987, Oscar Arias, announced his retirement as presidential candidate for the National Liberation Party (PLN).
"I will not participate in the National Liberation convention for the election of the candidate for the elections (presidential), 2014," Rodrigo Arias said in a press conference at his campaign headquarters.
Arias, who initiated a media campaign for several months, said he will not register his candidacy for various reasons, including the lack of support in the polls and the "attacks" against various political actors who have "damaged" his image.
"I find it unacceptable that some policy become a quagmire" said Arias, who described the decision as "responsible", "mature" and "realistic".
Rodrigo Arias, 66, is a lawyer, graduated from the Faculty of Law of the University of Costa Rica and also holds a Masters in Business Law at the University of Pennsylvania, USA.
As minister of the presidency he was the right hand of his brother during his two administrations (1986-1990 and 2006-2010).
The latest polls show the mayor of San José, Johnny Araya, as favorite to win the international PLN convention.
The convention will be held April 21. The PLN, the traditional party of the country and has been in power for the last two periods with Oscar Arias (2006-2010) and Laura Chinchilla (2010-2014).
The Costa Rica News (TCRN)
San Jose Costa Rica