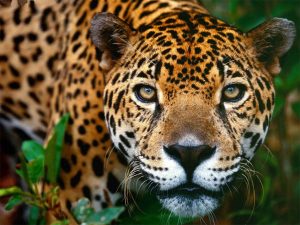 Costa Rica News – The Jaguar, revered for its hunting prowess and strength, feared for the same reasons, the secretive and elusive jaguar came to represent majestic beauty, power, stealth, cunning, and mystery interwoven in rituals and traditional stories.
This mystic creature has long been admired and even worshiped through South, Central and North America. One of the many stories is the Mayan myth; the Jaguar was a supernatural being, Jaguar Sun, who rose each day in the east and prowled west, aging along the course, until finally plunging into the darkness of the west.
Then Jaguar Sun fights the Lords of Xibalba (the Underworld) all night. Through his strength and cunning, Jaguar Sun wins the right to rise each day in the East, making the Jaguar Sun ruler of both day and night.
Now, this mystical, elusive animal's habitat is threatened in many areas in the Americas. Jaguar conservation has been getting more attention in recent years as conservationists were seeing dropping population. This past year though, jaguar conservation has received a large boost in Latin America.
An agreement signed between the government of Costa Rica and the world's leading wild cat conservation organization Panthera as well as the U.S. Fish and Wildlife Service (FWS) proposed efforts to revive the legendary jaguar in its habitat and further to return the cats to the American Southwest.
In July of 2012, Costa Rica Minister of Environment, Energy and Telecommunications (MINAET), signed a Memorandum of Understanding (MOU) between the government and the Panthera organization. The outline is establishing an official jaguar conservation strategy in Costa Rica and protects jaguar wildlife corridors.
Both groups in the partnership "commit to carrying out rigorous scientific and conservation initiatives that will help in securing protected wild lands linking jaguar populations in Costa Rica". Protecting corridors is critical to ensure that jaguars have zones of secure passage in their territory ranges.
Panthera conservation work has initiatives to protect the jaguars in 13 countries, to provide strategies that link and allows protective services and safe corridors for jaguar populations throughout the species' range, from northern Mexico, through Costa Rica, all the way south to Argentina.
---
Read exciting animal books to know more on wildlife conservation.
---
Many people don't that Jaguars appear in the U.S. every few years now, but it's very difficult to say whether there will ever be resident populations of jaguars again in the U.S. The U.S is the northern edge of the jaguar's range, and is no longer suitable habitat for them.
The mystical jaguar is listed as Near Threatened on the IUCN Red List. The jaguar faces not only habitat, but also the threat of direct killing by poachers looking to cash in on its prized fur. Restoring the jaguar population will take international efforts. But many experts are optimistic that future of Jaguar is secure thanks to efforts of organization like Panthera and efforts of pro-active governments like Cost Rica.
The Costa Rica News (TCRN)
San Jose Costa Rica