Technology is ever changing. Just when you think you've got the hang of it, out comes a new update or new device that you have to relearn. Despite the frequent and inevitable changes and updates, some of the techs out there are designed in a way that is simply easier to use, making it much more senior-friendly, which is good news for us. From durable and sturdy tablets to devices made for reading and smartphones with high-quality audio technology, these are some of the best devices of 2017 suited for seniors.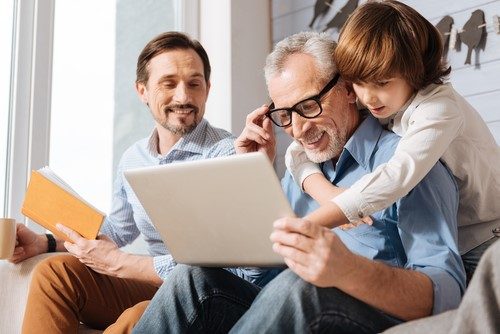 TIP: Get our latest content by joining our newsletter. Don't miss out on news that matter in Costa Rica. Click here.
ASUS Vivotab
This easy-to-use tablet features in-plane switching, otherwise known as IPS, that uses both bolder colors and wider viewing angles, which makes for a crystal clear display. The ASUS Vivotab tablet is optimal for seniors who may have low vision or other vision issues. The ASUS Vivotab also features easy-to-find large buttons on its display screen. The tablet operates on Windows 8, and integrally-speaking it has a solid construction overall.
Microsoft Surface Pro 3
Often dubbed as the tablet that will soon replace your laptop, this lightweight tablet with its compatible click-in keyboard might do exactly that. With the Microsoft Surface Pro, users can either type on the attachable keyboard or use the Surface Pen to write, draw and tap on the screen to create notes, lists or even works of art. The tablet has a 12-inch screen which is optimal for viewing and has a battery life that can last for nine hours of Web browsing on a single charge. The only downside to this tablet is that all of its accessories are sold separately, however, it is still much cheaper than the price of a laptop.
LG V20
This smartphone has a 5.7-inch display that offers rich color and deep contrast which makes for an enhanced image quality. In a review, Digital Trends wrote: "If a big screen Android phone is what you want, the LG V20 is the one to buy." This smartphone also has a nifty feature called Audio Zoom 2.0 that automatically minimizes wind noise and controls audio focus. Plus, its High Quad DAC, otherwise known as a digital-analog converter, ensures that you'll hear crisp, full sound through your headphones or speakers, which means you won't miss a beat when you take phone calls from your family, friends or doctors. The LG V20 is compatible on a handful of network carriers, including T-Mobile.
Kindle Fire
If reading is one of your favorite pastimes, you might be interested in owning a Kindle Fire. Although this tablet is equipped for more than reading, its primary function serves as a portable library. The newest addition to the Kindle Fire features a rear-facing camera that is great for taking photos or videos and it also has a front-facing camera that can make Skyping or video chatting with your family easily. Plus, Kindle Fire offers up to eight hours of mixed-use battery life and it is one of the toughest tablets on the market. In fact, The Kindle Fire has been engineered to stand up to everyday life and is more durable than the most recent iPad and is even two times more durable than the Mini. It is much more affordable than those competitors, too.