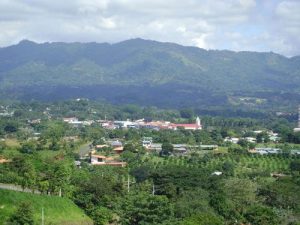 Atenas, since being named as having one of the world's best climates by National Geographic some years ago, has become a magnet for expatriates. It has a tropical climate, a convenient location in Costa Rica's Central Valley with short driving distances to airport and beaches, and many amenities for retirees. Wealthier retirees can choose to live in houses with million dollar views along Vista Atenas or in the Roca Verde community. Or one can live in less expensive barrios or neighborhoods close by such as Morazan or Santa Eulalia.
Getting to Atenas is easy. From the airport you can take an official red taxi. But beware! They have "marias" or meters and the fare to Atenas once cost me $47.00. From San Jose there is an hourly bus service. Atenas itself has the red taxis and unofficial "piratas" or pirate taxis without meters which are usually cheaper. Atenas also has bus service to Alajuela and Palmares. From Palmares you can catch another bus to San Ramon and from there to Arenal Volcano (La Fortuna).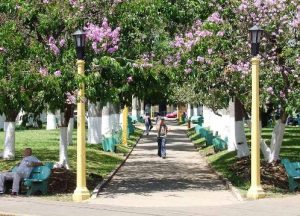 The bus station is in the heart of town. Surrounding it are three big name appliance stores, three supermarkets, and a large hardware store. A block away is the typical Spanish style plaza with park and Catholic Church. On the way to the plaza you can find a classy café, El Balcon del Café (on the balcony or second floor of the alcove), a massage shop run by Lizz Sanchez who offers the latest in massages including bamboo, geriatric relaxation, and hot stones, a cantina, and a "soda" or small restaurant called Tio Mano. Around the plaza is the court house, a popular sports bar—Don Tadeo, Banco Nacional, and a corner restaurant—La Carreta, where you can get reasonably priced meals and dine on the porch. Within walking distance is the big coop grocery, Coopeatenas, Su Espacio, which offers different classes such ballet and karate, a Remax real estate office, and the bar restaurant La Trilla.
A kilometer to the east is Don Yayo's Restaurant which has sumptuous and cheap bocas (appetizers) and where John and Linda Randall host their popular week duplicate bridge game. If you've never tried bridge, this may be a friendly setting to learn.
Kay's Gringo Poster, since 2008, run by Kay and Tom who hail from South Dakota, is another popular fixture nearby. It is a "soda" but with many gringo perks such as lunch specials, a place for meetings (AA, ladies day, and English class to name a few), a guest chef monthly dinner, and an exchange library. Tom cooks up great pastas and chili. And they sponsor the annual Atenas chili cook-off in February.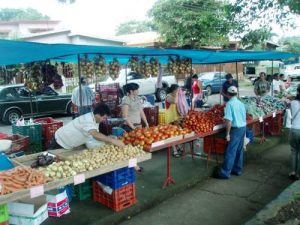 Among other amenities for both the sophisticated or simple expat are bakeries, dental clinics, barber and beauty shops, veterinarian clinics and suppliers, pharmacies, macrobioticas (health stores) and an internet café and computer sales and repair shop. Also in town is a CAJA clinic (government health clinic) a Seguro Social (administrative office for the CAJA), a ministry of health, and a Friday feria (or farmer's market).
There are several b&b's. The one I know is run by a friendly Swiss couple named El Paraiso Verde (The Green Paradise) who advertise themselves as "a small family bed and breakfast owned and run by a relaxed and focused Swiss couple." It is about 3 km from downtown Atenas.
Although Atenas lacks a college or university, a hotel, a hospital, and a car dealership, if you are looking for small town tropical charm and can do without these big city symbols, then Atenas just might just be the place for you!
Article by Raymond Raza
The Costa Rica News
San Jose Costa Rica