A year ago we had an extraordinary conversation with Amanda Moncada, the well-known Costa Rican fashion expert and former Dancing With The Stars contestant.
Although she was diagnosed with cancer in the following months, today she looks stronger and more admirable. Her essence is incomparable.
She has just had a CT (computed tomography) scan of her lungs to determine the effects of the current specialized treatment, the results of which will be available at the end of September. In November of last year (2022), after learning of her illness and undergoing various studies, she received chemotherapy and radiotherapy sessions.
Doña Amanda first had an outpatient operation on her leg to remove a sore that she had previously neglected, after a biopsy it turned out to have cancer cells, "I had a crisis when they put me under anesthesia, and as I felt bad, I went to the doctor who told me I had to have a CAT scan, in which I came out unbalanced, that's when it all started almost a year ago", she explained.
She was confined to the emergency room of the San Juan de Dios hospital since the diagnosis was lung cancer with metastasis in the brain, where she underwent surgery and then the specialists thought that the fashion designer had to undergo other studies or analysis outside Costa Rica.
After all this, she has gone from feeling very unstable to feeling strong. She said that she felt fine before the operation on her leg, but from that moment on her memory and balance began to fail, and on top of that she had a cough, she breathed well, but each inhalation caused her to cough. Today she no longer has that cough.
Amanda Moncada, regarding the results of her most recent study, does not even consider whether or not cancer still exists in her body, "because that is so relative, even thinking about the reasons why the disease arose, which could be emotional, due to diet or other things," she said.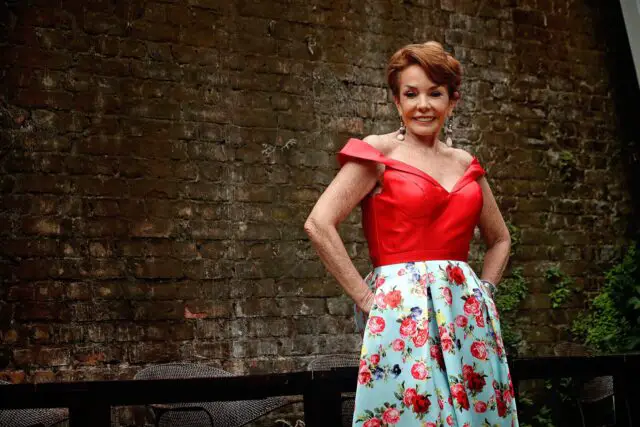 Learning from her process and how she feels today
At 76 years old and going through cancer, the Costa Rican fashion designer feels more hopeful and accepted. 
For her everything has been a great learning experience, "every time something happens to you in life, it is because you have to learn a lesson; in many things that come along the way, that bombshell sometimes is for us to wake up, because in general many times human beings live half asleep without realizing what we have and what we can lose in terms of everything: Family and everything else that is wonderful, when this happens to one there are very big internal changes that occur and there is also a takeoff, because when one knows that if this happened it is because you were not well and if you were not well you can be here and you can be dead, there you begin to have the sense of death, not thinking that you are dying, but knowing that there may be a possibility" he said with a very reflective voice.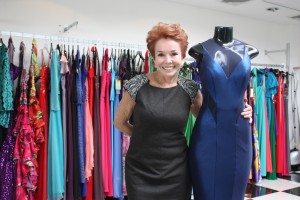 When Amanda found out that she had cancer, she immediately focused on the positive, thinking that she was going to fight, that she would not give up, that she would not stay with just a diagnosis without going beyond the matter, "deep down I think that many things are known, but not everything is as certain as it is said and that is where one has to think about the strength that every human being has, because I believe that every human being has a strength with which to fight against the things that life presents him, that is what life is all about and we did not come to life to lie down without problems, we came to learn from the difficult things that happen to us, that is what gives us the real lessons".
When asked if she believes in miracles, she answered yes, because, in her opinion, we see them every day.
Now, the dance lover also feels more relaxed about what could happen to her; she feels good, she fights because she feels strong, she does her routines at the gym, she eats well, she has never been hungry and she said that, even if she was hungry, she would still eat because "food is food for the organism".
Moncada added that everything in the world has a cycle and that one must work until the last one, "nobody knows when is the last day of life, so you have to keep going, with a certain acceptance that if things do not go as you expected, you have already had a while trying, so it should not be a subject that scares you, nobody is prepared, but perhaps one feels that it is not yet time to leave, because you feel good".
Undoubtedly, his family and friends have been his valuable company at all times. She has 3 daughters and 2 grandchildren, although she would have liked to have 12.
What would Amanda change about her life?
There are always moments when human beings stop to reflect on our lives, whether or not we are going through difficult situations, Amanda is no exception.
After her health problems, thinking about what she would like to change in her life, she refers to having a calmer life, and making different decisions because she believes that part of that is what brings us to where we are, "what makes sense is life itself, we can stress to achieve things, but it is not the stress, it is the way we handle it, I would take life more calmly, but well, you are the way you are and sometimes it is not so easy".
What is your perspective today in the ever-changing world of fashion?
In a world as changing as the fashion world, Amanda Moncada emphasizes that -there will always be fashion because we have to dress ourselves-. In her opinion, today the customer is not looking for so much investment, "that the clothes are not too expensive, it is not ideal for the world, but people are looking for a better price, not so fancy; I would say that the time of brands and that the new generations do not bring it, they are more concerned about technology than clothing, then we will continue to dress and large global producers know they must be careful, fashion will have to be very flexible to cover so many people with different visions".
More details about this unique Costa Rican fashion designer
Amanda grew up in downtown San José and currently lives in Escazú (Costa Rica).
She has been characterized as a woman who adapts to the times, she likes new things. She tries to influence the people around her with her essence.
As a child, she was very flirtatious, she liked everything that had to do with the world of women, so she liked to dress up.
She is bilingual, worked in the management of Channel 6, got married and left Costa Rica for 22 years, and lived in Miami, Mexico, El Salvador, Colombia, and then in Houston where she studied Administration.
Her beginnings in the world of clothing, were through a favor she did for a relative of her late husband Enrique Velázquez, "I started selling clothes for the store of that relative, then my relationship with clothes was no longer the same, I became a saleswoman, it was a great experience, a life lesson".
After the departure of her husband and the arrival of the pandemic, Amanda became a model for her brand, a decision that has helped her to personalize her store, to connect with a wider group of people, feeling that the dreams she had as a young woman should now be fulfilled.
She has an account on the social network TikTok, and with her charisma, she shows everything about her brand Joyby Amanda, she talks about fashion tips and dances, and one of her videos went viral with 1.600.000 reproductions, in 2023 she has almost 40.000 followers.
She continues advising women in the world of fashion, in addition to her online store, she has a physical store in Bello Horizonte, Escazú.
In Joyby Amanda, the fashion expert works with all kinds of dresses, especially casual and gala dresses, also to dress the mothers of the bride and groom, also advises and make people feel good. She is interested in motivating people, both adults, and women in general, "because we all come loaded with structures and we have to get them out of the way".
Amanda insists that women in general should be freer, not allowing themselves to be manipulated by age or physical appearance. We must be clear that we must enjoy each stage with patience and motivation.
She admires the young people, the new generation that, she is sure, will give us a better world, something that for her is not easy because it has never been.
"My main advice is not to be afraid, do not let yourselves be intimidated by the concepts of older generations, in the sense that everything is ending and can get worse, nothing to live surrounded by negativity," she concluded.
Talking with Amanda Moncada is to learn from her words, and her experiences that leave a lot, fill the soul and we fall short of admiring her.
Bravo Amanda!