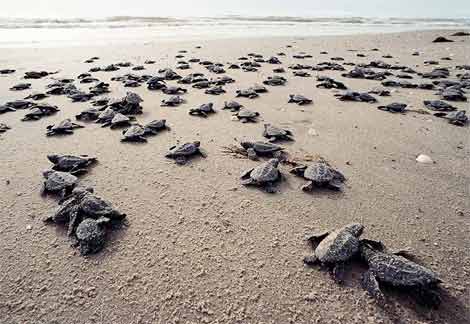 During the nesting season of the leatherback sea turtle, which began last October and ends in March, they have recorded 31 turtles of which 40% of those are new in the Leatherback Marine National Park.
Rotney Stone, administrator Leatherback Marine National Park, said that these 31 turtles that come to nest, they should add 7% of individuals outside the nesting season, and so in the end we'd be talking about 35 females.
TIP: Get our latest content by joining our newsletter. Don't miss out on news that matter in Costa Rica. Click here.
He further explained that 40% of these new turtles that reached the National Park beaches are females reached sexual maturity and were able to migrate from afar, while the remainder are remigrant turtles, which means that were identified in previous seasons and remain low nesting remigration periods of between 3 and 4 years on average, although there are individuals who show remigration longer periods.
"They are definitely low numbers, but seeing the population graph, we note that there is a tendency for the nesting female population is stabilizing. Possibly need a couple more seasons to ensure this trend, but the important thing right now is that the numbers do not continue to fall, which makes our effort is greater and remains hopeful that in the medium term a recovery note population reflected in an increase in the number of nesting females, "said Stone.
The Leatherback Marine National Park, invites everyone to the Leatherback X Festival to be held in the park's facilities on March 2 at 8:00 am
"The activity has as its main objective the official closing of the nesting season leatherback 2012-2013, but also insist on the need to contribute to the conservation of our ecosystems for the sake of ourselves and our planet. As is typical in such activity, the main actors are the children of local schools and invited to San Carlos, Puntarenas and San Jose, as well as private organizations and companies supporting the event. There will be a parade, cultural presentations, music, among other activities, "said Stone.
The marine protected area is cataloged in the Eastern Tropical Pacific, as the main nesting site for sea turtles world's largest, the leatherback species is currently in danger of extinction, and therefore the authorities insist on a recurring the conservations of it depends on everyone.
Emma Harrison, Director of Sea Turtle Conservancy, who have a project in Tortuguero National Park monitoring and conservation of sea turtles, said that part of the country in the spawning season of the leatherback turtle begins in March and ends in June.
"We do different activities in March where we have a group of volunteers to receive training and experience with sea turtles, and we count nesting level along the beach, do a tagging program for females and do patrols at night to see that turtles that come ashore to have identification marks, "said Harrison.
They are now selecting the 8 people who come to stay for three months to work during the nesting season.
They are also developing an environmental education program for the people of Tortuguero, to define the issues that will try this year.
"Last year was a regular season for the leatherback, we have seen in recent years some decline in the population but that does not mean that there are fewer turtles since the problem with the leatherback is that they go to different beaches during nesting "Harrison concluded.
The Costa Rica News (TCRN)
San Jose Costa Rica