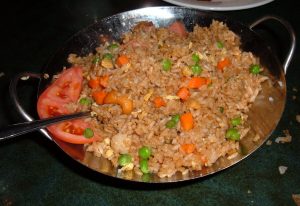 The Costa Rica News (TCRN) – If you thought the leftovers in the Costa Rican Zapote festivities will go to waste, think again. Owners of the Chinese food stands give it to the homeless once the day ends, so as not to waste it.
Juan Valverde sells meat, chop suey, and rice among other things, and says that for many years he has kept the tradition of giving food to the needy.
"When sales stop it is best to give it away before throwing it away, "said the vendor.
According to Valverde, the ranks of homeless people who come to their stands after midnight are impressive, especially after 1:00 am.
One of the vendors who has another food stand, says that for him, it would be a sin to throw away the food, and he enjoys having the opportunity to give it away.
"We all need food and to throw it away would be a sin. Whatever we have, grilled meat, greaves, because it can not be food for the next day," he added.
Elder Aguirre, the stall owner of Grilled Argentina says that beyond helping the homeless, he likes to help older people that are most in need, especially when they are sick or have no family.
"With regard to giving food is not a massive thing to give to all the poor, but there are older people who have a hard time and each year arrive and you give them that little extra help, which is not very big but at least the food is hot," said Aguirre.
The Costa Rica News (TCRN)
San Jose Costa Rica