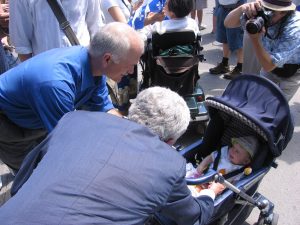 The Costa Rica News (TCRN) – This Saturday was a day of picketing, house to house visits, political rallies and other campaign activities in San Jose, Alajuela and Guanacaste, where most of the presidential candidates concentrated for votes.
Luis Guillermo Solís began his last journey from the province of Alajuela, is now in San Mateo and continues to Athens, but he knocked on doors throughout the morning in Alajuela Poas and center with his campaign called "the path of joy".
"We've seen a lot of need, we are on the bridge over the Poas River, which is one of the 2,000 bridges to be involved in an emergency decree on the first day of my administration," Solis told the people.
Moreover, in Guanacaste street teams wore "parakeet green" on Friday who represented Johnny Araya, candidate of the National Liberation Party (PLN). Araya visited Nandayure cantons, Hojacha and Santa Cruz. He met with leaders and residents of the area. For Saturday, the applicant remained in San Jose, addressing issues of the campaign.
Also in San Jose was the candidate of the Frente Amplio, José María Villalta and the Libertarian Movement, Otto Guevara.
The Costa Rica News (TCRN)
San Jose Costa Rica