A total of 290 tour operators from Costa Rica will attend the event to promote their services in the activity that will be on May 11 and 12 at the Kölbi Events Center, Parque Viva, in La Guácima, Alajuela.

Wholesale businessmen from 34 countries will come to Costa Rica to do business with national tourist companies and promote the country as a tourist destination, at Expotur 2017.
The sustainable tourism marketing bag from Costa Rica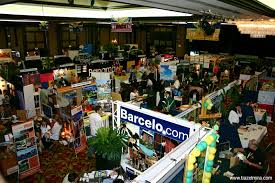 A report sent by Expotur indicates that there are 5,000 business appointments planned during the two days, which were coordinated between 290 local tour operators and 200 representatives of wholesalers.
Expotur will show different market niches this year, especially those through which the country has diversified as a destination.
In addition, the Costa Rican Association of Tourism Professionals (Acoprot), organizer of the activity, reiterates its commitment to keep this fair as the first sustainable tourism market in the region, the statement said.
"We have set out to show all the potential that Costa Rica has as a destination through the fair. That is why, in addition to nature, ecotourism, adventure and beach tourism, this year we will emphasize the cultural offer we have. The potential for bird watching tourism, wellness tourism and, of course, meeting tourism, in the face of the impetus given by the National Center for Congresses and Conventions, "said Massi Devoto, President of Acoprot.
Alberto López, General Manager of the Costa Rican Tourism Institute (ICT), highlighted the realization for more than three decades of this wholesale tourism market. "The international fairs have been consolidated as showcases to enhance the offer of a destination and facilitate tourism marketing," the official said.

The negotiations that take place in Expotur have the objective of placing Costa Rica as an attractive tourist destination around the world. The group of national and Central American entrepreneurs represents hotels, tour operators; rent a car, airlines, event planners, medical tourism companies, chambers and tourist institutes.
Business appointments are previously established, so the agenda is already assured.